Mediateque
The mediateque of Information centre of NGA includes the library and reading room of art and culture of the 20th-21st centuries, specialized videoteque, personal files of contemporary Lithuanian artists' and archive of the activities of NGA.
Mediateque is open for the visitors. Artists, researchers, curators, students and all culturally minded visitors are welcomed by the curators of IC NGA who consult the visitors about materials stored in the Centre.
Mediateque is equipped with modern facilities, convenient for reviewing audiovisual materials, visitors have WiFi access and may use the computers of the Center as well. The publications can be borrowed for short term from the library. There are facilities for scanning or copying the documents.
Mediateque collects catalogues of international and Lithuanian exhibitions, artists' monographies, publications on Lithuanian and international contemporary art history, critical studies, theory, art related periodicals and films about artists.
The unique archive of Information centre concentrates on the art works of Lithuanian artists of the second half of 20th-21st century. The videoteque collects Lithuanian video art works, documentation of performing arts and exhibitions. The personal artists' files compiled by the professional researchers presents the exceptional material about contemporary Lithuanian art. Each file contains the biography, short presentation of the artist and separate artworks, bibliography and reproductions. The information collected in hard copies of the files is partly available online.
IC NGA collects the information upon the activities of National Gallery of Art (catalogues, posters, invitations, photodocumentation, and press materials). The Information Center keeps the collection of books of Architecture [Publications] Fund.
Publications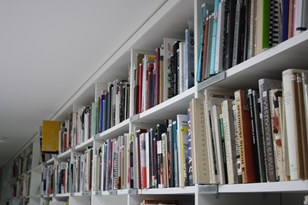 Bookshelf at IC NGA
See and download full list of publications, films and personal artists' files stored at IC NGA:
Contacts
Konstitucijos pr. 22, LT-08105 Vilnius
Tel. +370 5 212 29 97
fax. +370 5 212 28 88
E-mail: info(at)ndg.lt
CURATORS
Eglė Juocevičiūtė
eglej(at)ndg.lt
Ernestas Parulskis
ernestas(at)ndg.lt
OPENING HOURS OF IC NGA
Tuesdays 12.00-18.00
Wednesdays 12.00-18.00
Thursdays 13.00-18.00
Fridays 12.00-18.00
Saturdays 13.00-18.00 (by appointment only)

Days before national holidays IC NGA works until 17.00
Closed on Mondays, Sundays and national holidays.
Visiting the art Information Centre of the NGA is free of charge