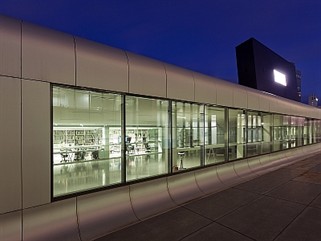 Art Information Center was established in 1993 as a department of the Open Society Fund's Program for Culture (Soros Contemporary Art Centre). Since 2000 it has functioned as the Contemporary Art Information Centre a branch of the National Art Museum of Lithuania. And in 2008 it became a unit of the National Gallery of Art.

IC NGA continuously collects information about contemporary Lithuanian visual artists. The artists' database is open for researchers, visiting curators, students and all culturally minded visitors of NGA.

IC NGA gathers information on contemporary visual culture. Specialized reading room provides relevant literature on contemporary Lithuanian and international art history, critique, and theory, architecture and design.

IC NGA keeps a unique collection of video and films by contemporary Lithuanian artists. All films are available for personal, educational and research purposes.

Services of Information Centre:
- maintaining the database of Lithuanian artists of 20th-21st centuries (information available at reading room as hard copy and online),
- open collection of contemporary Lithuanian artists' moving image works, video documentation of performances and exhibitions,
- open reading room of Lithuanian and international contemporary art history, critical studies, theory, and illustrated exhibition catalogues and artist's monographs,
- provides information about the activities of the National Gallery of Art.