2023 03 31 - 06 18
If Disrupted, It Becomes Tangible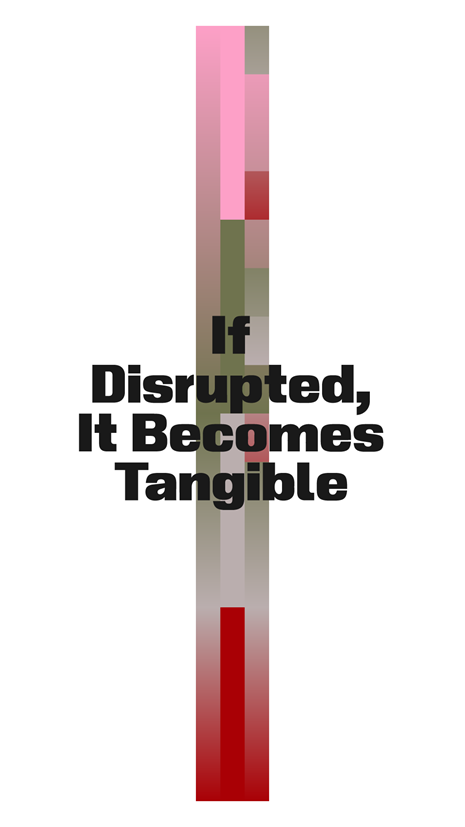 If Disrupted, It Becomes Tangible
Infrastructures and Solidarities beyond the post-Soviet Condition
The exhibition explores the political context of extractivist and logistical infrastructures, information and digital technologies, affected by wars and political uprisings in the geography and temporality that goes beyond the Post-Soviet condition.
The curatorial concept derives from the notion of infrastructure, which is understood as a way of distribution, organising of power relationship. The post-Soviet infrastructures has been built upon the ruins of military-industrial complexes, and embedded into complex material and immaterial relations of colonialism, outsourcing, resourceification, and externalities. Networks of infrastructure such as railways, gas pipelines, internet fibre optics, telegram channels, video monitoring systems, and so on remain intangible in everyday functioning. While breakdown, disabling, interruption exposes the work of the whole infrastructure and their interconnectedness - power and its materiality in the literal sense turn out to be visible, mundane, embodied through breakdown and interruption.
This approach has been reflected in the understanding of full-scale Russian invasion of Ukraine as a cyberwar. Entangling digital technologies and kinetic use of weapons, cyberwar becomes one of the most important notions that comprises complexities and infrastructures of contemporary imperialism and warfare. The imperialist configuration of war, with its logistics, seizure of nuclear plants, cyberwar and AI technologies should be addressed from the decolonial perspective and set new configurations as a process of "exodus" from the post-Soviet Condition.
The geography and temporality of various artistic practices presented at the exhibition stretches far beyond the post-Soviet Condition and focusing on the full-scale Russian invasion to Ukraine and the recent political protests in various ex-Soviet countries - Belarus, Ukraine, Kazakhstan, Kyrgyzstan, Georgia, Armenia besides others that demonstrate the activist and voluntaristic potential of the technologies themselves.
The main concept of the exhibition derives from the notion of 'disruption' seen as a method of resistance against infrastructural configuration of power and at the same time understood as a gesture of solidarity. This idea has been embodied in the architecture of the exhibition in the form of a discontinuous metal structure that runs through the entire exhibition, on the one hand, exposing the gaps in the infrastructure, on the other hand, linking artworks and contexts together.If Disrupted, It Becomes Tangibleis divided into 4 sections: The Ruins of Infrastructures, Cyberwar and Imperial Imaginations, Disruption as Method, Algorithmic Spaces of Control and Resistance that can be experienced in non-linear way. The exhibition is also supplemented by a glossary generated by curators and artists that can be used as an orientational tool in a complex overlaying of technologies, infrastructures and cyberwars.
Curators: Aleksei Borisionok, Antonina Stebur
Artists: Tekla Aslanishvili & Giorgi Gago Gagoshidze, Mariyam Medet*, Yevgenia Belorusets, eeefff, Anna Engelhardt, fantastic little splash, Uladzimir Hramovich *, The Museum of Stones editorial collective *, Oleksiy Radynski *, Alicja Rogalska, Sabīne Šnē *, Nomeda & Gediminas Urbonas, XYANA *
* Star marks presentation of new works, co-commissioned by The National Gallery of Art
Exhibition architect: Gabrielė Černiavskaja
Graphic designer: Valentin Duduk
Exhibition coordinators: Kotryna Markevičiūtė, Austėja Tavoraitė
Website programmer: Nicolay Spesivtsev
Translators: Paulius Balčytis, Aušra Karsokienė
Copy editors: Laura Patiomkinaitė - Čeikė, Dovydas Laurinaitis
Thank you: Lolita Jablonskienė, Eglė Juocevičiūtė,Vytautas Narbutas, Mindaugas Reklaitis, Marijus Okockis, Laura Grigaliūnaitė, Asia Bazdyreva, Noah Brehmer, Valentinas Klimašauskas, Olexii Kuchanskyi, Svitlana Matviyenko & Nick Dyer-Witheford, Almira Ousmanova, Eglė Rindzevičiūtė, Natalia Sielewicz, Olia Sosnovskaya, Masha Svyatogor, Darya Tsymbalyuk, RUPERT, Sodas 2123
The project is financed by Lithuanian Culture Council
Partner: European Humanities University (EHU)
Media sponsor Artnews.lt
Sponsors: Goethe-Institut*, Exterus, Fundermax, Hostinger, Funky beans
*The project is incorporated into a comprehensive package of measures for which the Federal Foreign Office provides funding from the 2022 Supplementary Budget to mitigate the effects of the Russian war of aggression against Ukraine.