2023 02 23 - 03 15
Not All of Them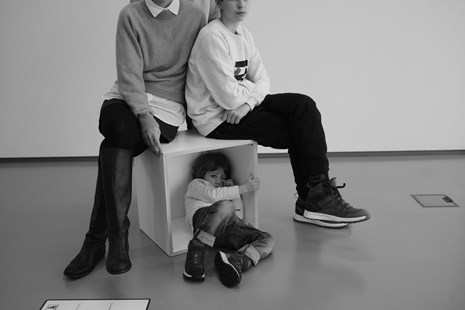 Antanas Sutkus. Portraits of War Refugees. 2022
Not All of Them
Portraits of War Refugees
"On the morning of 24 February, my mother woke me up and told me that the war had started," these are the words that begin the stories of almost all the Ukrainian children and teenagers we have photographed. These war refugees are now safe in Lithuania, but most of their parents, cousins and grandparents remain in their homeland, at war with the hordes of Russian occupiers.
Looking at their faces in the photographs, it is clear that it is impossible to defeat or subjugate this people. Almost all of their stories end with "I want to go back there" or "I'll go back as soon as I can". Their mothers are working, supporting not only these children who have been taken away from the horrors of war, but also their relatives in Ukraine.
When I screened my film "Antanas Sutkus. Scenes from a Photographer's Life", filmed three or four years ago, in "Scanorama", a journalist asked, "Would the film be different if you made it now?" Antanas replied without hesitation, "Of course. There would be the topic of Ukraine."
This thought caught my attention. Moreover, I have heard Mr. Sutkus sigh before, "If I was healthier, I would definitely be photographing war refugees from Ukraine. The faces and eyes of Ukrainian children, their mothers."
Sutkus then expressed another wish - he would like to photograph not alone, but with two younger colleagues - Artūras Morozovas and Tadas Kazakevičius - who are continuing and developing the tradition of humanistic photography.
I had the easiest job - to make a film that accompanies the exhibition. And to interview those who were photographed about the beginning of the war, life in the shelters, the retreat, and to put texts from these stories under the photos.
That's the whole story behind our exhibition.
Vytautas V. Landsbergis
Photographers: Antanas Sutkus, Artūras Morozovas, Tadas Kazakevičius
Film director Vytautas V. Landsbergis
Exhibition architect Mindaugas Reklaitis
Designer Laura Grigaliūnaitė
Project coordinators: Iveta Baltrušaitytė, Giedrius Gulbinas
Exhibition organiser "Strong together"
Partners: Lithuanian National Museum of Art, National Gallery of Art, Antanas Sutkus Photographic Archive VŠĮ
Information partners: Clear Channel, Piksel, ACM, ŽMONĖS