2022 12 09 - 2023 02 26
Margins and Boundaries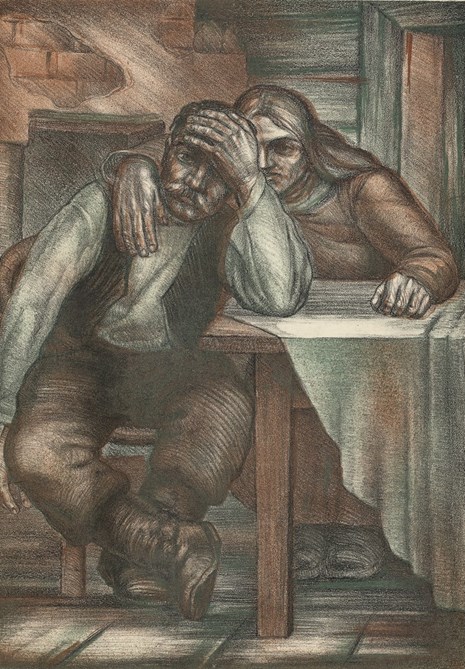 Telesforas Valius. Worries. 1934. M. K. Čiurlionis National Museum of Art
Margins and Boundaries
Social Critique in Interwar Lithuania
The phenomenon of social critique in interwar Lithuania hasn't yet to be sufficiently researched and considered. Recent historical reflections on the Republic of Lithuania (1918-1940) are accompanied by the ideas of universal progress, modernization, and optimism. However, rapid modernization and significant political, economic, and sociocultural transition burdened interwar society with unique challenges and problems.
It is no coincidence that the exhibition presents the young generation of artists that emerged and matured in the 1920s and 1930s, focusing on their creative legacy. Many of them reflected on their historical context and the social aspects of everyday life, and some sought to expose uncomfortable social problems of the era.
Defining the social critique of the interwar years is not an easy task, as it seems to drown in different, often opposing, historical narratives and memories. Until now, the social critique of that era, together with the legacy of the left-wing artists mostly associated with it, has been considered a rather political or even marginal topic. Some of the artists presented in this exhibition were not appreciated in their own time. However, after the Second World War, their legacy was convenient for the Soviet ideology, which used it primarily to deconstruct the historical memory of the state that existed for a mere two decades. Therefore, the themes of poverty, social and gender inequality, exclusion, unemployment, and the moral decline of society became handy tools by which to develop a mythologized narrative about the liberation of the Lithuanian nation from the clutches of bourgeois or fascist Lithuania. On the other hand, some of the artists willingly contributed to the successful use of this legacy in the Sovietization project, as exploitation of their own early works helped them secure high positions and privileges.
Thus, this exhibition aims to present, at least partially, the little-known legacy of the interwar artists by revealing the multiple facets of social critique in the contexts of Lithuanian sociocultural, political, and everyday history. It also seeks to take a closer look at complex issues of art, ideology, and propaganda that cannot be reduced to a single narrative.
We sincerely thank all the museums, memorial institutes, and families of the artists - Kazys Rimtas Tarabilda, Agnius Tarabilda, and Vytautas Jurkūnas Jr. - who agreed to lend the works for this exhibition.
Curators: Norbertas Černiauskas, Gabrielė Radzevičiūtė
Architect Mindaugas Reklaitis
Coordinators: Eglė Mikalajūnė, Ernestas Parulskis
Graphic designer Laura Grigaliūnaitė
Artists: Bronislava Adelaida Abaravičiūtė, Vytautas Augustinas, Gerardas Bagdonavičius, Zalė Bekeris, Mečislovas Bulaka, Balys Buračas, Antanas Gudaitis, Antanas Ingelevičius, Vytautas Jurkūnas, Petras Kalpokas, Marcė Katiliūtė, Leonardas Kazokas, Petras Kiaulėnas, Vaclovas Kosciuška, Jonas Kuzminskis, Česlovas Liutikas, Boleslovas Motuza-Matuzevičius, Antanas Samuolis, Kazimieras Skerstonas, Veronika Šleivytė, Petras Tarabilda, Domicelė Tarabildienė, Veronika Tarvydaitė, Irena Trečiokaitė-Žebenkienė, Stasys Ušinskas, Vincas Uždavinys, Liuda Vaineikytė, Stasys Vaitkus, Jonas Vaitys, Telesforas Valius, Juozas Zikaras, Bronius Žekonis, Stepas Žukas.
Partners: Lithuanian National Museum of Art, M. K. Čiurlionis National Museum of Art, A. and P. Galaunė House, Lithuanian Archives of Literature and Art, Lithuanian Central State Archives, National Museum of Lithuania, Vilnius University Library, Martynas Mažvydas National Library of Lithuania, Kaunas County Public Library, Kaunas City Museum, Kaunas 9th Fort Museum, Šiauliai Aušros Museum, Kupiškis Ethnography Museum, Vilna Gaon Museum of Jewish History, Lithuanian Photographers Association, Panevėžys County Gabrielė Petkevičaitė-Bitė Public Library, Rokiškis Regional Museum, Venclovas' House-Museum.
The project is financed by Lithuanian Culture Council
Media sponsor lrytas.lt
Sponsors: Exterus, Fundermax