2022 11 18 - 2023 02 19
Darius Žiūra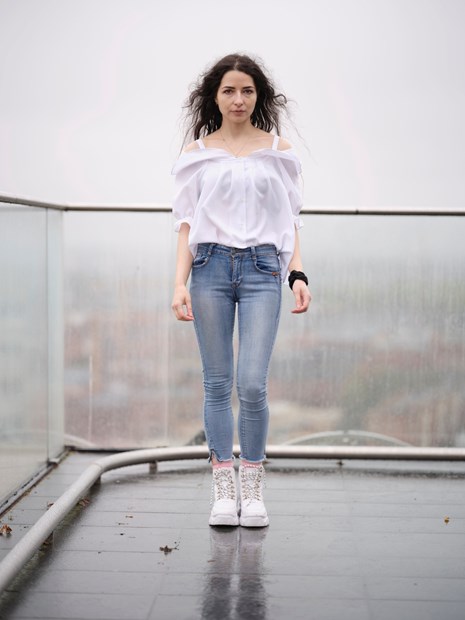 Darius Žiūra. From the series 'Portraits'. 2005–2022
Darius Žiūra
Portraits
The freedom of art is absolute. This is why art will never be fully integrated into society, but also why artists insist on establishing and following their own non-negotiable rules.

Darius Žiūra (born in Joniškėlis in 1968, lives in Vilnius) is one of the leading Lithuanian artists of his generation, and his work appears to prove such points about freedom and discipline in art. He articulates the passage of time through the practice of portraiture, submitting himself and others - his models and audiences - to regiments of observation and participation, repetition and periodicity. This survey exhibition features four major works by Žiūra that embody and challenge notions of portraiture, time, location and society, as well as their frequent, but not always voluntary, entanglement with history and geopolitics.

Gustoniai (2001-ongoing) is a series to which a new work is added every three years. Each is composed by a number of silent, 60-second-long silent video portraits of inhabitants in the village of Gustoniai (in the district of Pasvalys) where Žiūra himself grew up. We see projections of eight films, shot in 2001, 2004, 2007, 2010, 2013, 2016, 2019 and 2022. They show us rural Lithuania unfolding over time, but also how the technical development of the video medium affects portraiture.
The documentary film Gustoniai in Gustoniai (2019), which will be screened in the National Gallery's auditorium on two occasions, documents Gustoniai Art Days, the village's first-ever public cultural event, organised by Žiūra in 2018 around a screening of Gustoniai for the protagonists themselves.

Portraits (2005-ongoing) documents the first generation of Lithuanians born after the restoration of independence in 1990-91. In 2005 Žiūra travelled throughout Lithuania, photographing and filming 428 children, mostly girls, who were then between three and fifteen years old. The pandemic delayed his plan to continue the project after exactly fifteen years, but in 2021-22 he managed to revisit 220 of his previous models, who now live in seven different countries. Only a few of them have remained in the villages and small towns where he first encountered them.

The exhibited version of Portraits comprises two sets of 20 photographic prints and two sets of 203 videos. It further strengthens the connection between Žiūra's long-duration practice and projects such as Paul Almond's and Michael Apted's television series Up (UK, started in 1964) or Nicholas Nixon's photographic series The Brown Sisters (US, started in 1974), which follow the same group of people through many decades. Yet Žiūra's use of this method is uniquely trans-disciplinary, involving various still and moving images presented in exhibition halls.

Monument for Utopia (2015) is about three young men who met during military service in the Soviet Far East in 1987-90 and dreamt about becoming artists. Vyacheslav Kovalenko did become an academic sculptor in Saint Petersburg (but he now lives in Italy with his family and no longer supports the Russian regime). S. left Latvia for Ireland, where he was better able to build a queer life for himself. Only Žiūra himself entered the world of 'contemporary art'. His homage to this friendship is a staging that includes a monumental plaster sculpture by Kovalenko and two tonnes of books that S. stole from bookshops in Dublin.

Screentests (2018-ongoing) is a three-part interactive multimedia installation gesturing towards Andy Warhol's work with the same title: a visual behavioural test and a time-capsule in the making. It consists of a studio with an automated video camera, where people can record a fifteen-second self-portrait film after acquainting themselves with the rules of the work, a constantly growing digital archive of this footage and a continuous update of recent recordings that are shown in the exhibition, conflating the role and status of participants and viewers.

Curator of the exhibition Anders Kreuger

Exhibition architect Mindaugas Reklaitis

Graphic designer Laura Grigaliūnaitė

Project coordinator Giedrius Gulbinas

Exhibition organizer: National Gallery of Art / Lithuanian National Museum of Art

The project is financed by the Lithuanian Council for Culture
Partner: LRT
Media sponsor: JcDecaux
Sponsors: Exterus, Fundermax