2021 11 13 - 2022 02 06
Where are the people?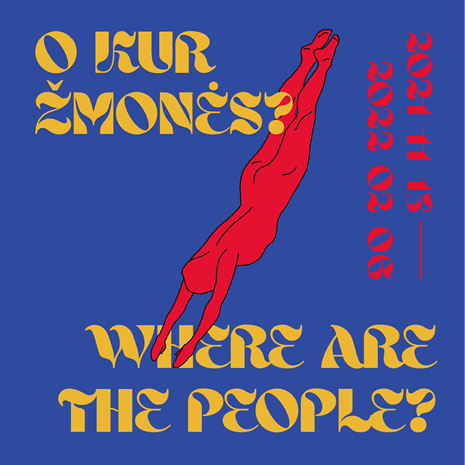 Where are the people? The exhibition created by the team of teenagers.
Where are the people?
The National Gallery of Art in Vilnius presents an exhibition created by twenty-three teenagers.The young creators have done everything by themselves: they devised the exhibition's theme and idea, selected artworks and communicated with the artists, created the architecture and design of the exhibition, conducted audience research, and explored the possibilities of social marketing.
'We hope that this project will motivate the young creators of the exhibition to continue to try new things, discuss what they care about, and remember how much can be said with the help of art' says Lolita Jablonskienė, the director of the National Gallery of Art. The participants themselves believe that this experience is truly valuable and differs from the educational experiences found at school and in after-school activities. In this project, they directly faced emerging problems, learned how to deal with them effectively, communicated with each other, and developed their responsibility and cooperation skills. 'You can't learn these kinds of things from textbooks,' says Eglė Nedzinskaitė, the gallery educator and founder of this project.
'From quarantine-style calls, to creative workshops and face-to-face discussions - this whole time we were preparing for the exhibition. Everything that you'll see has been done by us: the designs, architecture, descriptions of the artworks, and even social media posts,' says Emilija, a member of architects' team.
'Our exhibition is about people's inner and outer worlds. Most likely everyone thinks about these things, but no one talks about them. We would like visitors to take their time in the exhibition, to reflect on the things that are usually too scary to think about. We especially want to welcome the younger generation, because we think that they will feel understood here,' explains curator Ona, another participant.
One of the participants' aims was to create an exhibition that would be interesting and relevant to other teenagers, as there is an assumption that art is hard to understand or simply not interesting enough for young people. The marketing team looked at the process of creating the exhibition as if it was the process of creating a product, carrying out marketing research on the target audience and forming a unique selling proposition. They sought to answer the question, why should young people visit the exhibition? This is how singer-songwriter Gabrielė Vilkickytė and her music appeared in the project. Her songs have been paired with artworks as well as certain areas of the exhibition. The participants believe that this will help visitors to understand the art in their own way, and discover new meanings. Audience research shows that there is a lack of sensual experience in most exhibitions, which is why it has been implemented in this one. Here there are different surfaces you can touch, there are things to look at and listen to, and most importantly, once a month there will be special events wherein the creators will work with visitors on new ways of viewing and re-reading the works of art.
Participating artists: Žygimantas Augustinas, Irma Balakauskaitė, Alvīne Bautra, Violeta Bubelytė, Vitalijus Butyrinas, Ramūnas Danisevičius, Alfonsas Dargis, Kristina Inčiūraitė, Vytautas Jurkūnas, Linas Jusionis, Gudrun Krebitz, Andrius Kviliūnas, Vitas Luckus, Aurelija Maknytė, Antanas Martinaitis, Rūtė Merk, Henrikas Natalevičius, Tymonas Niesiolovskis, Damir Očko, Vygantas Paukštė, Audronė Petrašiūnaitė, Marija Teresė Rožanskaitė, Edmundas Saladžius, Dominykas Sidorovas, Eglė Vertelkaitė, Ugnė Žilytė.
Participants of the project That Strange Art and creators of the exhibition:
Kuratoriai: Ona Akelė, Roberta Alksnytė, Tėja Kalpokaitė, Greta MarVaitė, Marijonas Verbel.Architektai: Saulė Andrejevaitė, Enrieta Cicėnaitė, Rovena Karvelytė, Emilija Lanevskaja, Eva Piragytė, Elžbieta PoliakovaDizaineriai: Aneta Beginskaitė, Kasia Bojarun, Lijana Chmilkevičiūtė, Morta Mažeikaitė, Justė Samuolytė, Gabija StūrytėRinkodara: Meda Baltramonaitytė, Lukrecija Jurėnaitė, Greta Leigaitė, Urtė Minkevičiūtė, Kamilė Pavlovskaja, Elzė Stanulionytė
Mentors: Salvinija Cibulskienė, Margarita Kaučikaitė, Eglė Nedzinskaitė, Aurelija Slapšytė, Evelina Vasiliauskaitė.
This project is implemented by the National Art Gallery.
Funded by the Lithuanian Cultural Council.
Sponsors: EXTERUS, Fundermax
Partner LRT