2021 04 02 - 06 13
Timestamps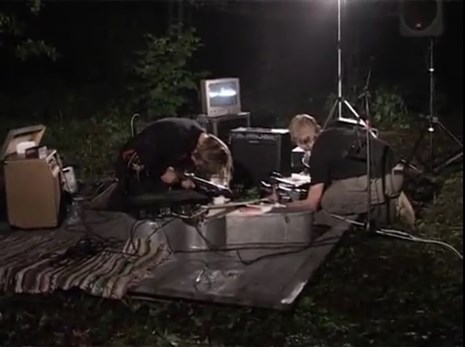 Remote performance 'Forest Test' in Nemenčinė forest and Concemporary Art Centre (Vilnius) by Juozas Milašius and Darius Čiuta. 2004. Still from the video documentation
Timestamps
Lithuanian media art retrospective
Displayed in the small temporary exhibitions hall and various unexpected spaces of the gallery are experimental works created using computing, software, and networking technologies in the 1990s and 2000s. In a time when the impact of digital technologies on our pandemic-ridden daily life is greater than ever, the exhibition offers a peek into the era when these technologies were taking their first steps in Lithuania. This period was characterised by a fascination with digital tools and the possibilities they provided. Back then, they were perceived not as an inevitability imposed by the circumstances or as routine companions, but rather as instruments for building a more open and democratic culture.
The exhibition showcases adapted and reconstructed important new media art works - kinetic, interactive sound and visual installations, video pieces, as well as audiovisual documentation of notable artistic initiatives and events from the artists' personal archives. These works and documents tell a story that begins with the mid-1990s video art experiments, continues through the Lithuanian artist-run organisations' active involvement in the international digital culture networks, and culminates in the younger generation of artists making use of the new technology in artistic practice, interactive design, and club culture alike.
As a result of major technological and cultural shifts that took place at the turn of the 2010s, new tech-related art movements took over the discussion of emerging devices and the relationship between the virtual and the real. Presenting the ephemeral sensations, images, and sounds reminiscent of the bygone era, the 'Timestamps' exhibition is an attempt at capturing the contours of the phenomenon of Lithuanian media art.
The exhibition features works and projects by the artists Lina Albrikienė, Tomas Andrijauskas, Augustinas Beinaravičius, Arturas Bumšteinas, Darius Čiuta, Julija Goyd,Institutio Media, Giedrius Kuprevičius,Migrating Art Academies, Juozas Milašius, Vaclovas Nevčesauskas, Saulius Paliukas,PB8, Artūras Raila, Paulius Sluškonis, Mindaugas Tendziagolskis, Mirjam Wirz, and Vytautas Žaltauskas.
Curator Jurij Dobriakov
Exhibition design Mindaugas Reklaitis
Graphic design Ignas Miškinis
Coordinator Eglė Juocevičiūtė

The project is financed by the Lithuanian Council for Culture
Sponsored by Exterus, Fundermax, digis.lt, Hanover Displays
Media sponsor lrytas.lt
One of the artworks requires wireless headphones. Due to the current pandemic situation we kindly ask visitors to bring the earpieces with them.