2020 05 19 - 06 28
Aesopica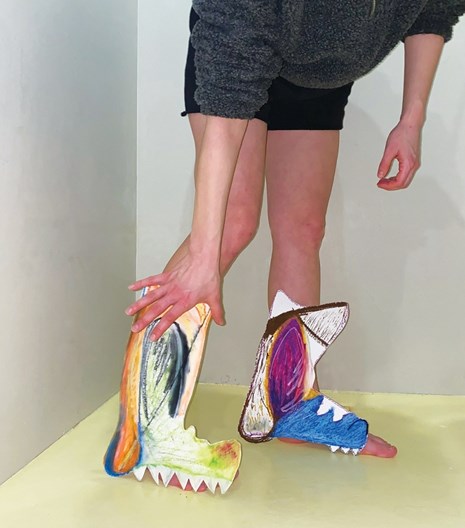 Rūta Junevičiūtė. Aesopica. 2020
Rūta Junevičiūtė
Aesopica
The exhibition 'Aesopica' by Rūta Junevičiūtė is based on the name of the Greek fabulist and storyteller Aesop. The show draws attention to the Aesopian utterance and its cultural complexity from the perspective of a younger generation and links it to relations of different generations, adaptation, communication, and various forms of strains overcoming.
The exhibition was implemented in collaboration with the architect Justinas Dūdėnas, designer Gailė Pranckūnaitė, artist Anastasija Sosunova, and choreographer Grėtė Šmitaitė who responded to Junevičiūtė's conceptual proposal and produced a spatial and graphical model of the exhibition together with literary essays that interconnect with the new film 'Stendhal Syndrome' (2020) by Junevičiūtė.
The installation of the exhibition is a spatial model of Aesopian utterance. It is also an ideal structure of thought and a trigger for the artist to raise a question if communication codes, models of thinking and negotiating formed under authoritarian regimes of the past are still valid. How do knowledge circulation and learning function in present-day collectives? How do inherited models affect contemporary challenges?
Rūta Junevičiūtė received an MA in sculpture at the Vilnius Academy of Arts in 2018. She now studies at the Academy of Theater and Dance in Amsterdam.

The project is financed by the Lithuanian Council for Culture
Sponsors: Exterus, Fundermax.