2018 03 07 - 04 06
BLIND DATE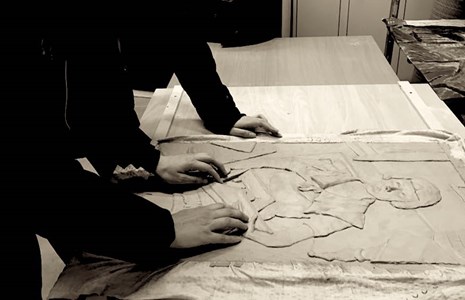 Exhibition of tactile reproductions "BLIND DATE"
BLIND DATE
Exhibition "BLIND DATE" is mainly dedicated to people with visual impairment seeking to enhance their knowledge of Lithuanian national art heritage and at the same time develop personal artistic proficiency in the context of visual arts. This exhibition is an exciting opportunity to experience visual art differently through the sense of touch.
"Blind date" presents tactile reproductions of paintings handmade by sculptors Jonas Aničas and Matas Janušonis with assistance from the Lithuanian Association of the Blind and Visually Handicapped as well as professionals of tactile art from Italy. The displays of embossed artworks are specifically designed for touching which helps visitors to understand and feel the content of a painting.
This series of tactile reproductions guides visitors through the permanent exhibition of National Art Gallery for XX-XXI century. Embossed reproductions were carefully selected to represent the important changes, art movements and manifestos with significant impact on Lithuanian painting in the XX century. Traditional genres such as landscape and portrait will be followed by deconstructions, surrealistic visions and conceptual art. Visitors will be introduced to the social themes of paintings, avant-garde experiments and new ideas or comments on the subject of classical art.
This exhibition presents tactile reproductions of paintings by Jonas Vaitys, Mstislavas Dobužinskis, Vytautas Kairiūkštis, Stasys Ušinskas, Liudomiras Slendzinskis, Bronislovas Jamontas, Vincas Kisarauskas, Arvydas Šaltenis, Henrikas Natalevičius and Mikalojus Šalkauskas.
Curators: Agnė Matulevičiūtė, Matas Drukteinis, Eglė Nedzinskaitė
Reproductions by: Jonas Aničas, Matas Janušonis
Consultants: Irma Jokštytė, Alvydas Valenta
Exhibition architect Aleksandras Kavaliauskas
Designer Laura Grigaliūnaitė
Exhibition organizers: "Krantas", "Meno genas"
Partners: Lithuanian Art Museum, National Gallery of Art, Lithuanian Association of the Blind and Visually Handicapped, Lithuanian Library for the Blind, Užupis Art Incubators
Sponsors: Lithuanian Council for Culture, Ministry of Culture of the Republic of Lithuania, "ElektroMarkt", "Vieversio kulniukai", "VOX ART"