2017 12 28 - 2018 02 25
Oskar Hansen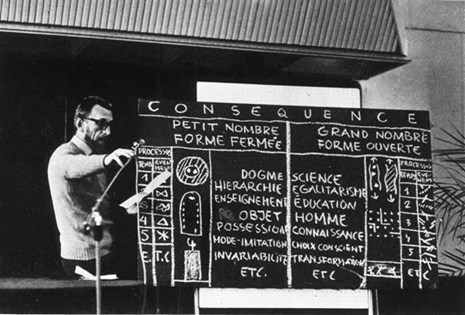 Oskar Hansen during AICA Congress in Wroclaw, 1975, Copyright Oskar Hansen Archive, Museum of the Academy of Fine Arts in Warsaw
Oskar Hansen
Open Form
The exhibition showcases various aspects of the Open Form theory, the basis of the architectural, artistic and pedagogical practice of Oskar Hansen, a Polish architect of Norwegian descent, who spent his youth in Vilnius.

Presented at the International Congress of Modern Architecture (CIAM) held in Otterlo in 1959, the Open Form theory proposed opening up architecture to its users, and allowing them to co-create it. Hansen fought against what he defined as Closed Form, fully designed structures leaving no space for the creativity of users, constituting more a monument to their authors than a comfortable living space. Instead, he suggested a radical change in the perception of the role of the architect, which in his opinion should consist of creating a passe-partout, a background for everyday life. The mission of architecture should be to showcase people and the richness of their daily activity in space. Architecture should highlight subjectivity, and create a framework for individual expression; it should become an instrument that can be used and transformed by its users, and which can adapt easily to their changing needs.

The exhibition presents various areas and scales of artistic and architectural activity where Open Form has been applied: from exhibition design, and temporary pavilions, monuments and housing estates designed together with his wife, the architect Zofia Hansen, to the Linear Continuous System, a project to establish decentralised cities running throughout Poland and the European continent.

The event organised by the National Gallery of Art in Vilnius is based on an exhibition prepared by Soledad Gutiérrez, Aleksandra Kędziorek and Łukasz Ronduda. It has already been presented at MACBA, Barcelona (2014), the Serralves Museum, Porto (2015), Yale School of Architecture, New Haven (2016), and the Museum of Modern Art in Warsaw (2017).

Curator: Aleksandra Kędziorek
Exhibition design: Centrala (Małgorzata Kuciewicz, Simone De Iacobis)
Co-producer of the exhibition: Museum of Modern Art Warsaw
Lenders to the exhibition: Filmoteka Narodowa - Instytut Audiowizualny w Warszawie, Fundacja Galerii Foksal, Fundacja Zofii i Oskara Hansen, Muzeum Akademii Sztuk Pieknych w Warszawie, Muzeum Sztuki Nowoczesnej w Warszawie, Wytwórnia Filmów Oswiatowych.
Partner: Adam Mickiewicz Institute
The project is co-organized by the Adam Mickiewicz Institute operating under the Culture.pl brand within the international cultural programme POLSKA 100 accompanying Poland's centenary of regaining independence.

Financed by the Ministry of Culture and National Heritage of the Republic of Poland as part of the Multi-annual Programme "Niepodległa" 2017-2021.
The project was partly financed by: Lithuanian Ministry of Culture, Lithuanian Culture Council
Sponsors: Polish institute Vilnius, Vilnius municipality, Exterus
Media sponsor: lrytas.lt