2017 06 30 - 08 20
Optics & Structure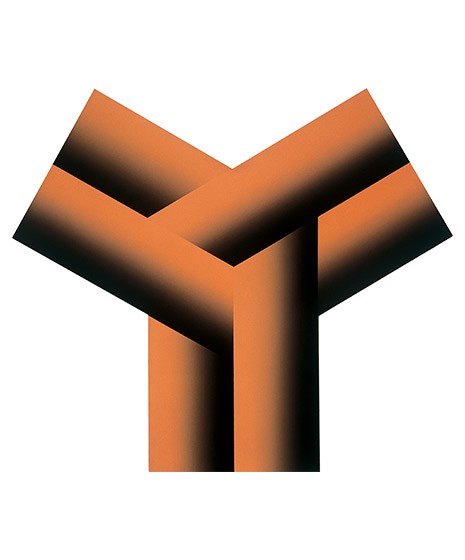 Kazys Varnelis. Message. 1973
Optics & Structure
Works by Kazys Varnelis: 1967-1977
The exhibition surveys the key period during which Varnelis developed his distinctive approach to painting and experimented with constructions in space.
In his mid-forties, with an established career in the design of church interiors, Varnelis reinvented himself as a fine artist, principally as a painter. He soon found artistic recognition in Chicago, receiving prestigious awards at the Art Institute of Chicago and meriting a one-man show at the city's groundbreaking Museum of Contemporary Art in 1970 followed by a show at the Milwaukee Art Center in 1974. Nevertheless, Varnelis had come to modern painting at its tail end and found success limited. Never a follower of fashion, Varnelis did not have any interest in adapting to the growing interest in pop art or postmodernism.
Varnelis's chief occupation during this decade was painting, exploring the possibilities of light and shadow in monochromatic canvases rigorously divided into geometric shapes. Gaining an appreciation of the power of light from his classical art education and his subsequent work with stained glass, Varnelis relentlessly interrogated the possibilities for light as a source of depth outside of traditional perspectival space. He would religiously stick to a light source situated at the conventional point to the top left of a canvas. This light would be represented on each shape: a light monochromatic tone on one edge shading into a darker tone at the opposing edge, thereby creating an illusion of depth, of convex and concave surfaces. The crystalline geometries of the shapes divide the canvas in a rigorous but diverse way. The resulting works thoroughly interrogate the flatness of the canvas without rejecting the possibilities latent in the illusion of three dimensional space, challenging but also employing the conventions of painting.
Greatly influenced by the 1965 MoMA show "The Responsive Eye," Varnelis was keenly interested in the perceptual effects of his work on viewers. A series of his works from the late 1960s and early 1970s explored the territory of Op Art, particularly the strobing back and forth of shapes in perspective, figure/ground reversals, and moiré effects produced in the retina by works with huge numbers of small shapes. If these patterns were modern, they also recalled elements of traditional Lithuanian folk art, which Varnelis had not forgotten about even though he had been in the United States for two decades by then.
Like other American artists of his time, such as Donald Judd, Frank Stella, or his friend Aleksandra Kašuba, Varnelis was interested in the possibilities of going beyond the picture plane without embracing the conventions of sculpture. For Varnelis, this took the form of what he called "experiments in space," colorful objects more in line with Constructivism than with Minimal Art. He treated these works like architectural elements, assembling them from pieces of wood easily obtainable at local supply stores.
With the artist's 1978 move to the Neo-Renaissance Villa Virginia, his most creative period came to an end. Still, he developed a uniquely personal attitude toward postmodernism that became his hallmark in the last three decades of his life. Varnelis came to his own reconciliation with history by situating his work amidst a strikingly different historical environment, something that he would do again when he moved to Vilnius in 1998.
Varnelis intended his work for the "White Cube". He saw it as his primary site, producing large, abstract works that aimed to both enliven and respect modernist spaces. For the first time since the 1974 one-man show in Milwaukee, this exhibit celebrates the majority of Varnelis's high modernist paintings in the sort of setting that it was designed for. An exhibition design was developed in keeping with the principles by which the artist hung his work.
Exhibition curator and designer Kazys Varnelis (Jr.)
Exhibition organizers: Lithuanian Art Museum, National Gallery of Art, Vilnius, National Museum of Lithuania, Kazys Varnelis House-Museum
Exhibition lenders: National Museum of Lithuania, Kazys Varnelis House-Museum, Rolandas Valiūnas
The project was partly financed by: Ministry of Culture of the Lithuanian republic, Lithuanian Council for Culture
Sponsors: Vilnius City Municipality, U.S. Embassy in Lithuania, Exterus, Imparat, Narutis
Media sponsor lrytas.lt