2017 04 14 - 06 04
MAGMA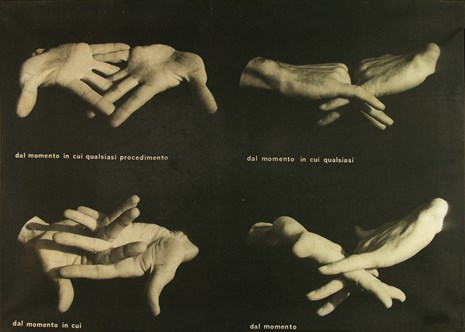 Ketty La Rocca. Appendice per una supplica, 1971. Courtesy Collezione Carlo Palli, Prato
M/A\G/M\A
Body and Words in Italian and Lithuanian Women's Art from 1965 to the Present
The visual art project "M/A\G/M\A" is a collaboration between the Istituto Nazionale per la Grafica in Rome and the National Gallery of Art in Vilnius. Curated by Benedetta Carpi de Resmini and Laima Kreivytė, the exhibition presents works by Italian and Lithuanian women artists that explore the interplay between language and body. The exhibition foregrounds artistic tactics that transform the language of the body, practices of writing and reading, embodied or dispersed words and letters. At the same time, it is an articulation of women's creativity and manifold experiences which can be compared to magna bursting from a volcano with a (per)formative power to transform the environment.
The title of the exhibition is inspired by the international exhibition of women artists "Magma," held in Verona in 1977 and curated by Romana Loda, in which the image of magma symbolized the quiet, dynamic, and scorching power that was energizing the women's and feminist movement. The separated letters of the 2017 "M/A\G/M\A" exhibition reinforce the importance of word play and deconstruction. This word is written and pronounced the same way in Lithuanian, Italian, English, and other languages. In no particular chronological order, "M/A\G/M\A" exhibition reveal how, in Italian and Lithuanian art of the late twentieth and early twenty-first centuries, the female body and linguistic (de)constructions became conceptual critical means for encouraging a re-evaluation of woman's relationship with herself and society.
Italian women artists' works from the 1960s resonate with Lithuanian women artists' efforts from the 1990s until today to transform vocabulary, language, and text, to find their voices. The exhibition highlights connections between artists of different generations and geopolitical contexts: expressions of pre-verbal existence; new vocabulary and writing the body; the identity and consciousness of the woman artist; disruption of the symbolic order; language as a political tool; reading the body. Visual and sound works - from journal-like video to vocal performance, from alphabets written with bodies to unreadable handwritings and performances - are supplemented with artists' books, posters, and texts.
Artists: Jurga Barilaitė, Mirella Bentivoglio, Tomaso Binga, Eglė Ganda Bogdanienė, Violeta Bubelytė, Cooltūristės, Coro Collective, Amelia Etlinger, Chiara Fumai, Laura Garbštienė, Nicole Gravier, Karla Gruodis, Kristina Inčiūraitė, Justė Janulytė, Eglė Kuckaitė, Lina Lapelytė, Ketty La Rocca, Maria Lai, Aurelija Maknytė, Lucia Marcucci, Verita Monselles, Paulina Eglė Pukytė, Eglė Rakauskaitė, Cloti Ricciardi, Eglė Ridikaitė, Marija Teresė Rožanskaitė, Suzanne Santoro, Laisvydė Šalčiūtė, Eglė Vertelkaitė.
Curators: Benedetta Carpi De Resmini, Laima Kreivytė
Architect Julija Reklaite
Designer Laura Grigaliūnaitė
Organisers: Lithuanian Art Museum, National Gallery of Art
Partners: Istituto Centrale per la Grafica, Italian Embassy in Vilnius, Istituto Italiano di Cultura di Vilnius, Lithuanian Culture Institute
Sponsors: Lithuanian Ministry of Culture, Lithuanian Council for Culture, "Exterus", "Narutis", "Lrytas.lt", "7 meno dienos"