2016 11 10 - 2017 02 05
Juzeliūnas' Cabinet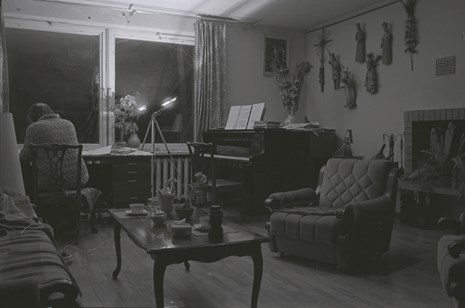 Algimantas Kunčius. Cabinet of composer Julius Juzeliūnas. Vilnius, 1985
Juzeliūnas' Cabinet: Modernising Lithuanity
Julius Juzeliūnas (1916-2001) is one of the most prominent Lithuanian cultural and political figures of the 2nd half of the 20th century. From today's perspective he would likely be considered an interdisciplinary artist: an influential composer, proponent of national modernism, professor, mentor of more than 50 Lithuanian composers, habilitated Doctor, and creater of an original theory, one of the founders of the National Revival (Sąjūdis) movement, and an active participant of the processes of restoration of Lithuania's independence.
Juzeliūnas stands out in the Lithuanian music landscape with his independent attitude and extraordinary initiative. He became the primary moderniser of the national tradition, spawned a century ago by Mikalojus Konstantinas Čiurlionis and fostered in the interwar period by Juozas Gruodis. He drew inspiration not only from phenomena beyond the Iron Wall or trips to distant lands (Nigeria, Burma, Tunisia, Congo, Mauritius, Madagascar), unavailable to most Lithuanian artists at the time, but also research into folk music and linguistics. Juzeliūnas' expanding interests shaped a musical language and philosophy which differed quite radically from the official ideological requirements, and paved way for the emergence of the avant-garde and individual styles in Lithuanian music.
The exhibition Juzeliūnas' Cabinet: Modernising Lithuanity celebrates the composer's 100th anniversary. It is based on the findings of an artistic and scientific research which brought together artists and scholars from different spheres. The exhibition features films, installations, photographs, comic strips, objects, music and texts.
Curated by Šarūnas Nakas