2016 02 19 - 03 26
Birutė Stančikaitė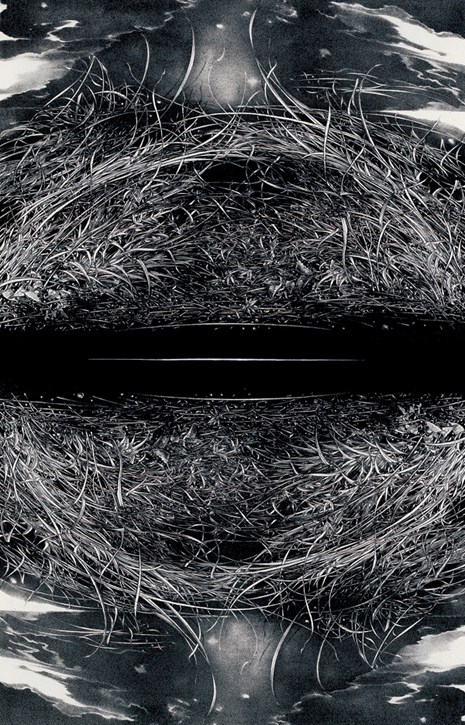 Birutė Stančikaitė. Greatness of Smallness. II. 2006. Lithograph on paper. Property of the artist
Birutė Stančikaitė
Light in the Darkness
The system of images and plasticity of graphic artist Birutė Stančikaitė is attributed to the romantic metaphoric stream of Lithuanian graphic art. Echoes of this stream are rich and varied in the artist's works: elegant Baroque improvisations, the determination of restless romanticism, and the flow of a slow, doleful folk melody. The artist was especially intrigued by light, its reflections and translucent beams, piercing the surfaces of objects and their interiors. Stančikaitė talks about this as her main creative intention: "Through my inner world I search for and seek in life and art light, warmth, clarity and depth - depth, understanding and love in human relations, and in unity with nature".
Stančikaitė's debut as a professional artist took place in the mid 1970s, when the so-called women's generation, or romantic group of artists, emerged in Lithuanian graphic art: Irena Daukšaitė, Elvyra Katalina Kriaučiūnaitė, Jūratė Stauskaitė, Ramunė Vėliuvienė. The poetic and lyrical solutions to issues of existentialism in these artists' works were close to the young artist's heart, as well as the plastic language replete with symbolism. Stančikaitė's masterful technique is evidenced by her precise compositions, subtle chiaroscuro modelling, the expression in her illustrations exhibiting the accuracy of a perfectionist, and the precision of her prints. In the beginning of her creative path, the artist chose lithography - she was impressed by the tonal contrasts and the gentle halftones that could be achieved using this technique. Towards the end of the 1980s Stančikaitė used etching, which paved the way for even greater freedom to improvise, while painting enhanced the expression of colour, which began in graphic art. The artist's main source of inspiration is nature - a very fragile, intimate element. The artist's personal experiences and moods are conveyed in the parallels of the destinies of nature and man: awakening, being in bloom, maturity and loss. The particularly sensitive visualisation of subjective states is a characteristic feature of the artist.
This retrospective of work by Stančikaitė presents the most mature works from the artist's studio and the collections of the Lithuanian Art Museum.
Curator Regina Urbonienė
Organizers: Lithuanian Art Museum
Partner: Lithuanian Artists' Association
Sponsors: Saulius Karosas Charity and Support Foundation, "Upartas", "Exterus"