2016 01 15 - 03 06
The Man with Sauka's Face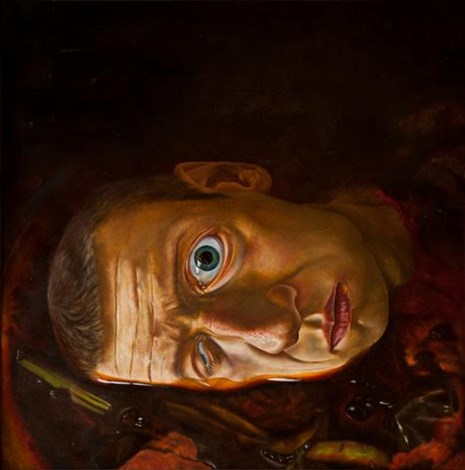 Šarūnas Sauka. Selfportrait No. 4. 1985. Property of the author
The Man with Sauka's Face
Paintings by Šarūnas Sauka. 1978−2015
The exhibition "The Man with Sauka's Face" presents over a hundred of Šarūnas Sauka's works, created between 1978 and 2015. For the first time ever, the viewers are able to enjoy not only paintings on canvas, but also finely painted glass objects.
The man with Sauka's face - the central figure of this exhibition - watches us from many paintings. "Watches" is the right word here. Sometimes he turns away and lets us watch him from the side, as if he is busy with other things and has not even seen us. But most of the time, we, the viewers, are inscribed in the painting; our place and role are indicated with a gaze or a gesture. Neither do his self-portraits tell us much about their author (after all, we do not see the artist with a brush anywhere), but they invite us to a meeting instead.
Sauka's face is applied to Christ, Pontius Pilate, a martyr, an executioner, a suicide, an attacker, a bishop, a participant in a mundane domestic family scene, a female nude, a skeleton, a body made of sausage, a severed head. We can try to read all the paintings as stories about the artist himself, but we can also perceive him as an actor who performs different roles in different paintings. Sauka as Hamlet, and Sauka as Ophelia. Another metaphor is also possible: Sauka's face is a mask that the most diverse characters wear in this odd world.
This exhibition is a retrospective of Sauka's paintings; it is not concerned with the artist's life, or the evolution, stages and turning points in his work. The paintings are not arranged in chronological order. The exhibition is constructed as a subjective narrative. Sauka's painting is presented as an integral world, based on a distinct logic and a particular set of rules. Let the man with Sauka's face, who constantly recurs in this world, become the viewer's guide, who ironically, boldly and sometimes shockingly, talks about the absurdity of life, and the search for meaning to vindicate the reality.
Curator Monika Saukaitė
Architect Justinas Dūdėnas
Sponsors: LR kultūros ministerija, Lietuvos kultūros taryba, AB "Lietuvos geležinkeliai", VšĮ "Maldžio fondas", koncernas MG Baltic, VšĮ "Pirmoji kava", EXTERUS, Vilniaus miesto savivaldybė, UAB EKSPObalta
Media Sponsors: LRT, daily Lietuvos rytas, lrytas.lt