2015 11 19 - 2016 01 31
Cinema Passes through the City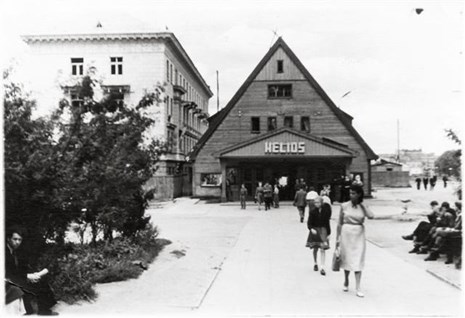 Cinema Helios. Vilnius, 1956. Image by V. Peršinas. Property of S. Žalneravičiūtė
Cinema Passes through the City
The Stories of Vilnius Cinemas
The exhibition presents the history of Vilnius' cinemas, from the first public film screenings in the late 19th century to the present day. It seeks to reveal many aspects of this hitherto under-researched object, treating cinemas not just as physical institutions, but instead emphasizing their importance to residents of Vilnius, and their significance to the city's cultural, political and social life, as well as their changing role in different historical periods.
During this time, numerous political and cultural changes have taken place in Vilnius, to which both the cinemas and the viewers have had to adapt. In times of war and peace, when Vilnius was governed by Russians, Poles, Germans or Lithuanians, cinema was always a form of entertainment, even though it often became an instrument of propaganda. Naturally, at all times, cinema screenings were primarily meant to generate income. As early as the beginning of the 20th century, cinema in Vilnius attracted more visitors than all the other forms of entertainment put together. True, in the late 20th century, when the privatization of Vilnius' cinemas began, and video technology arrived in Lithuania, cinemas went through hard times. Today, it is easy to build a home cinema, but people are nevertheless returning to public cinemas. Perhaps the special environment and the shared experience of watching are necessary to fuel the illusion.
This exhibition was initated by the film researcher Sonata Žalneravičiūtė, who has spent several years gathering material for a book on Vilnius' cinemas, and discovered much interesting and previously unpublished visual material. Further research in collaboration with curators at the National Gallery of Art has yielded more unique material, which illustrates the processes of the development of cinemas, the distribution of films, and their reception.
The display features exhibits, documents, footage and sound recordings, from both public and private sources, and museum collections. In the course of the research, over 50 locations in Vilnius were identified where films have been screened at some point. A map of these places is shown.
Curators: Sonata Žalneravičiūtė, Živilė Etevičiūtė, Eglė Juocevičiūtė, Eglė Mikalajūnė
Exhibition architect: Ieva Cicėnaitė
Fifth hall display architecture concept: Aikas Žado / Zemat Zemat Zemat museum
Designer: Laura Grigaliūnaitė
Partners: Lithuanian Central State Archives, Vilnius County Archives, Lithuanian Archives of Literature and Art, Lithuanian Theatre, Music and Film Museum, Martynas Mažvydas National Library of Lithuania, Vrublevskis Library of the Lithuanian Academy of Sciences, Lithuanian National Radio and Television, Lithuanian Film Centre, Lithuanian Filmmakers Union, Mosfilm Film Corporation
Sponsors: Lietuvos kultūros taryba, Lietuvos Respublikos kultūros ministerija, Exterus, AB "Lietuvos geležinkeliai", koncernas "MG Baltic"
You can download the publication "Cinema Passes through the City. Texts" from here