2015 07 10 - 09 20
World According to Fluxus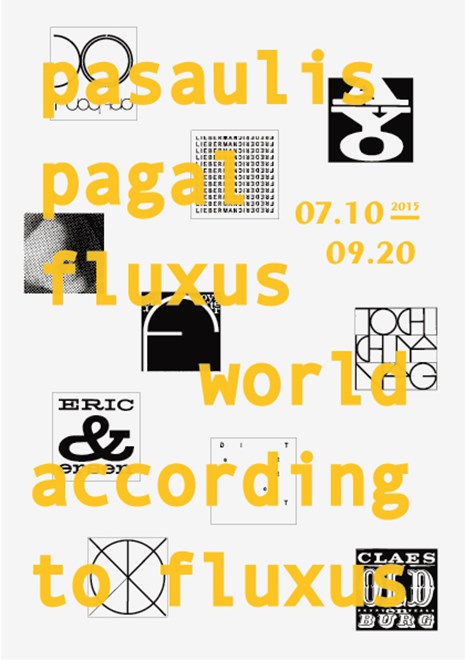 World According to Fluxus
World According to Fluxus
The exhibition showcasing more than 600 items chosen by the curator Liutauras Pšibilskis is the first comprehensive presentation of the Vilnius Fluxus Collection to a Lithuanian audience. It allows viewers to get to know this treasury of the Fluxus movement, in the possession of the City of Vilnius since 2007 and entrusted to the Jonas Mekas Visual Arts Center. The collection was built by the filmmaker, artist, critic and curator Jonas Mekas, the founder and long-time artistic director of the Anthology Film Archives in New York and the recipient of numerous international awards, as well as of the Lithuanian National Prize.
The Vilnius Fluxus Collection is noteworthy because of its size (it comprises around 2600 objects), because of its provenience (a large part of it stems directly from George Mačiūnas) and because it contains many originals and sketches for well-known Fluxus works (by Mačiūnas himself and other authors).
What makes the Fluxus artists relevant to us in Lithuania is not just the insights and ideas their works communicate, but also the fact that the movement's founder, George (Jurgis) Mačiūnas was our compatriot and that his creative and organisational activities reflect his experience - shared by many - of the Second World War and of having to leave Lithuania, - explains the curator Liutauras Pšibilskis.
Mačiūnas's different fields of work - curating, organising, various forms of collaboration - all come together as a unified art project, formulating a 'language of art' that became a progressive and intellectually stimulating component of post-war Western culture. The uncompromising but also popular and accessible ideas of the Fluxus movement still inspire artists and audiences today. Paradoxically, although it was radical and always in opposition to established norms, Fluxus has now become an important part of many collections of twentieth century art.
Curator Liutauras Pšibilskis
Organizers: LDM, NDG, Jonas Mekas Visual Arts Center
Sponsors: Lithuanian Council for Culture, Ministry of Culture of the Republic of Lithuania, Vilnius municipality, Lithuanian Culture Institute, Pirmoji kava, Exterus, UAB Ekspobalta
Media support: Lietuvos rytas, lrytas.lt