2014 11 26 - 2015 03 29
Kazimiera Zimblytė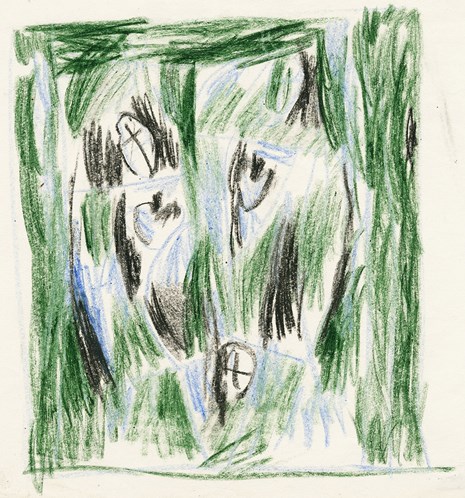 Kazimiera Zimblytė. Sketch. 1960's
Kazimiera Zimblytė (1933-1999). The 1960s

Kazimiera Zimblytė's pure abstraction is crucial to the processes of modernisation in Lithuanian painting in the second half of the 20th century. This exhibition presents Zimblytė's early work, which covers the 1960s, the most intense stage in her individual creative exploration. It attempts to reconstruct the period as a whole, seeking to comprehend the genesis of abstract painting, and to reflect on the conditions and premises for its existence in the Soviet period, when, according to Václav Havel, grey monotony stifled all individuality.
From 1952 to 1959, Zimblytė studied fine art textiles at the Lithuanian SSR State Art Institute in Vilnius. After her studies, she worked briefly on fabric designs for mass-production at the Dailė factory, joined the Lithuanian Artists' Union, and received a studio in the Antakalnis district. For some time, she exhibited decorative compositions and textile projects in republican and all-Union shows in Vilnius and Moscow, as well as in exhibitions in Poland, Yugoslavia and Japan. She visited Czechoslovakia and Hungary as a tourist in 1961, and Poland around 1963-1964. Her first independent creative efforts show her concern with questions of the effect of a painting's frontal plane. She analyses it by discarding the illusion of space, emphasising the material qualities of the work, and employing an ornamental structure for the image. These works are characterised by the depiction of elementary forms of reality in the style of children's drawings. Her first solo show, held in 1968 at the Vaga publishing house, was strongly criticised by the authorities and shut down. The dissemination of her work (its public exhibition or reproduction in publications) was very limited. But her individual concerns defined her existential position: staying true to herself, and experiencing inner freedom in creative work as a result.
An important source of cultural inspiration in the 1960s was the Moscow intellectual underground, which was favourable to the reception and promotion of Zimblytė's work. Her acquaintance with the famous Moscow-based Russian avant-garde theorist Anatoly Strigalyov proved to be crucial. Moscow attracted her with its art exhibitions from all over the world, access to a wider cultural press discussing current developments in Western art, and the museum collections of work by Russian avant-garde artists (Malevich, Kandinsky, Rodchenko, Tatlin, etc). The interest in abstraction among underground artists in the 1950s and 1960s became something of a cultural epidemic. Zimblytė's works were exhibited in Vasily Rakitin's private gallery, and some were acquired by prominent collectors of Russian underground art. In 1973, she was commissioned to design a stage curtain for the Gnessin Academy of Music in Moscow.
The diversity and abundance of Zimblytė's 1960s work prove that 'grey monotony' was unable to stifle processes that were taking place in the autonomous space defined by individual artistic interests. Ideology is merely a basic social instrument that has no power over creative work, which explores much more important and profound issues of content and perception. The consistent analysis of the interpretation and ways of perception of the plane of a painting undertaken by Kazimiera Zimblytė influenced directly the emergence of new depiction strategies in contemporary Lithuanian painting.
Curator Milda Žvirblytė