2014 11 14 - 2015 02 01
Teodoras Kazimieras Valaitis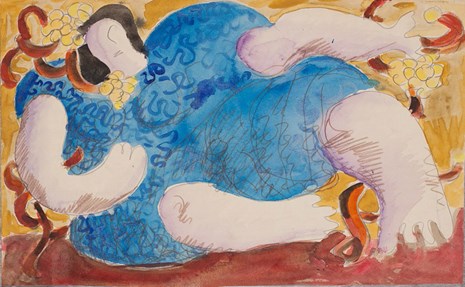 Teodoras Kazimieras Valaitis. Reclining woman dressed in blue. Ca. 1970
Teodoras Kazimieras Valaitis. 1934-1974
This exhibition presents the creative legacy of Teodoras Kazimieras Valaitis (1934-1974). It is also an introduction to the artist himself, a vibrant personality in Soviet modernism. Valaitis stood out from the crowd in those gaunt and grey Soviet times: his appearance, posture, interests, ambition and activities all seemed to be different. He could not fit into the framework of the system, he lived life to the fullest, and he led a more intense and varied life than most other artists. Talented and good-looking, he was highly thought of by colleagues, loved by women, and accompanied by good luck. He paid close attention to the aesthetics of creativity and daily life, and his fame spread beyond the borders of Lithuania: he was known in Riga, Tallinn and Moscow. His charm, his artistic genius, his position among Vilnius' unofficial elite, and his untimely death turned Valaitis into a cultural hero, shrouded in mystery, and strangely lacking in clear facts.
In preparing this retrospective to commemorate the 80th anniversary of the artist's birth, a collection of works that reflect the whole range of his creative activities has been gathered, facts about individual works have been clarified, and the memories of contemporaries about the artist and the epoch have been collected. The research, which lasted almost two years, was financed by the Research Council of Lithuania.
The exhibition reveals Valaitis' work and its context, testifies to the efforts to bring Lithuanian art closer to Western culture, and, of course, invites us to rethink the limits of Soviet 'freedom'. But first of all, it is a story about an artist of exceptional talent, and his complicated personal and creative lives.
Curator Giedrė Jankevičiūtė
Main sponsor Research Council of Lithuania
Sponsors: Culture Council of Lithuania, UAB Exterus
Media support Lietuvos rytas
Organizer National Gallery of Art
Partner Vilniaus Arts Academy