2014 06 27 - 09 14
Mindaugas Navakas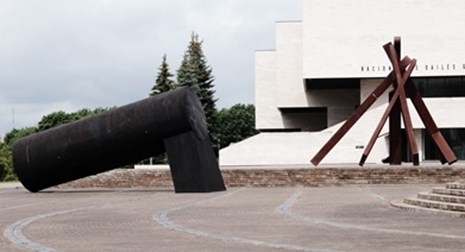 Mindaugas Navakas. 'The Glory Was at the Fingertips'. Fragment of outdoors exposition
Mindaugas Navakas
Glory Was at the Fingertips
The retrospective of work since 1977 by the sculptor Mindaugas Navakas (comprising 56 works, 15 of them outdoors) is one of the biggest project at the National Gallery of Art since it reopened in 2009, and links conceptually the interior and exterior spaces of the gallery building.
By employing the language of contemporary art, the exhibition invites the viewer to take a new look at the history not just of Lithuania but also of the Baltic region and Central Europe in the late 20th and early 21st centuries. In the context of the conversion of the former Museum of the Revolution of the Lithuanian SSR into today's National Gallery of Art, the title of the project 'Glory Was at the Fingertips' hints at the (non)fulfilment of political projects, and suggests an auto-ironic view of the artist's own creative aspirations.
As an architect and sculptor of volumes and spaces, Navakas has always been interested in the postmodern dialogue between the site (a public, institutional or alternative space), and the cultural meanings and the active visual dimensions of an associative work (sculpture, object, installation or projection), which emerges in the remaking process. This dialogue has at its core a combination of metaphysical threats, an existential anxiety, and frivolity or irony. The broad range of creative strategies employed, and the materials mastered (concrete, granite, amber, gold, minerals, steel, silicon), testify to the constant vitality of the tireless conceptual artist as a researcher and technician. By producing unexpected juxtapositions of elements of culture, nature and industry, and by resisting the consumerist neurosis of the post-shortage society, and turning its cult objects (commodities) into material for creative recycling, the sculptor encourages us to take a critical look at our surrounding environment.
Download the photographs of the exposition here
Curator Elona Lubytė
Partner VšĮ Architektūros fondas
Sponsors:
Lietuvos kultūros taryba
UAB "Inžineriniai tinklai"
EXTERUS

Media sponsors:
"Lietuvos rytas"
lrytas.lt
CENTRAS interjeras.lt