2012 05 25 - 08 26
Per Kirkeby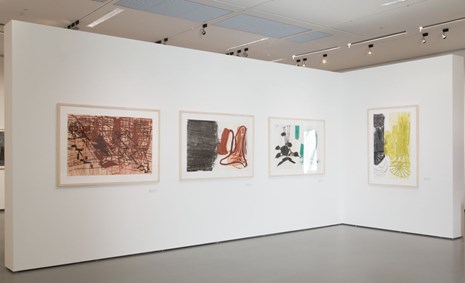 Fragment of the exhibition
Per Kirkeby. Lignum vitae
Per Kirkeby (b. 1938), the world-famous Danish painter, graphic artist, architect, sculptor, filmmaker, writer, poet and scenographer, is best known for his large-format canvases. The exhibition aims to reveal the process of his creative work: his interest in how structures express themselves through the systematic repetition of a motif and transformations of it.
The exhibition focuses on the motifs of the tree and the tree stump. Kirkeby's visual language exploits several essential repetitive motifs and images, such as a cave, a hut, ruins, a mountain and trees. His etchings are characterised by a unique style, testifying to his minute and almost scientific work, polishing, purifying and perfecting structures by methodical repetition. Throughout this multiple process of transformation, the tree structure remains resistant and durable.
From the 1980s onwards, trees turn into an artistic archetype, a foundation, and a form that would accompany Kirkeby all his life. He explores the forms, textures and surfaces of a tree; the most painful, fatal form of a tree, the stump, also emerges. A tree stump is laden with anthropomorphic tensions. And finally, motifs assume the shapes of bronze sculptures, of fragments of the human body, the face, the feet and the legs.
In the middle of the 1980s, the motifs undergo a change: trees shift from nature to the cultural space. The settled, schematic motif of a tree and a stump decrystallises, and a new element, a plinth, is born. The similarity of a tree to bronze sculptures resting on plinths remains a significant and vivid parallel, a reference. At times, the structures of tree-plinths and anthropomorphic stumps are supplemented by classic Christian motifs, and sometimes a plinth or a tree turns into the foot of the cross.
The exhibition enables us to see how the internal logic of the tree as an iconic nomad, and of a chain of structural transformations, stems from the works themselves, from repetition and constant citation. Thus, an analysis of the works unravels Kirkeby's artistic world, which at first sight is labyrinthine and somewhat esoteric.
Curators: Teresa Østergaard Pedersen, Milda Žvirblytė
Organizers: National Gallery of Art, Vilnius and Museum Jorn, Silkeborg
Lenders: Museum Jorn, Silkeborg, Galleri Bo Bjerggaard, Copenhagen, AroS Aarhus Kunstmuseum, Aarhus
Main sponsor: Danske bank