2011 05 13 - 09 18
Monuments That Are Not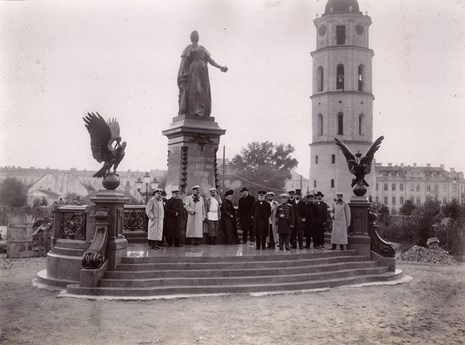 A group of people in Cathedral square by the monument of Catherine II. Vilnius, 1904 .
Monuments That Are Not. A Walk around Vilnius
A monument is a stable, inviolable symbol of immortalised human glory and honour. Yet the history of Vilnius prompts us to rethink the meaning of monuments, and to focus on the paradoxes of their existence, as most monuments in this city were destined to become even more temporary than its residents. Only a few of the monuments that were put up in Vilnius at the end of the 19th century survived more than 50 years, and a large number of them were pulled down before they were even 20 years old. Many intended monuments never saw the light of day at all. Unable to carry out their mission, monuments became like actors, superseding each other on the same stages (the squares that were built for glorification), playing parts in similar plays (official ceremonies), and even using the same props (the pedestals or the granite they were made of). The places where monuments rose and fell became witnesses to processes that amalgamated change and continuity: as the monuments, which were designed for eternity, replaced each other, the rituals remained essentially the same, as if they were following an uninterrupted tradition.
This exhibition tells the stories of these sites. Alongside sketches of unrealised projects, it features photographic and filmed documentation that reflects the changes of the monuments, the life that was lived nearby or on the sites of the monuments (ceremonies, events of political importance, or moments in everyday life), and short-term art projects that offered a different perspective on the processes that took place in the commemorative squares.
Curators: Eglė Mikalajūnė, Rasa Antanavičiūtė, Živilė Etevičiūtė
Partners: National Museum of Lithuania, Lithuanian Central State Archives, Lithuanian Archives of Literature and Art, Vilnius County Archives, Union of Lithuanian art photographers, Vilnius academy of Art, Vilnius University Library, The Wroblewski library of the Lithuanian Academy of Science, The Institute of Lithuanian Literature and Folklore, Lithuanian Artists association, WUT Main Library
Sponsor: Culture support foundation of the republic of Lithuania