2011 07 01 - 09 25
Arbit Blatas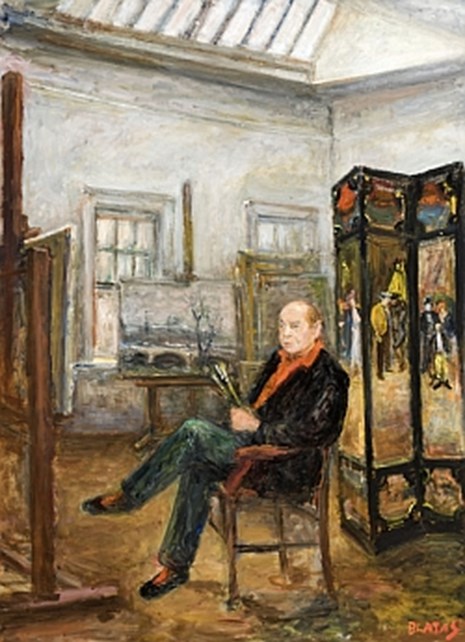 Arbit Blatas. Self-portait. Oil on canvas
ARBIT BLATAS. His Return to His Homeland
Arbit Blatas (1908 -1999), a modern classic, cosmopolitan and active participant in the international scene, belonged to the generation of postwar humanist artists. Having begun his artistic career in his home country, Blatas later studied at art schools in Germany and France. Berlin introduced him to Expressionist art, while interwar Paris shaped his modern artistic philosophy. Blatas' remarkable talent and original expressive language brought him close to the young generation of artists known as the Paris School (École de Paris). The European art capital welcomed warmly many young people who were hungry for art and believed in the tolerant nature of the homeland of European traditions. The atmosphere of freedom and the unfettered spirit, and the warmth of friendship, created the myth of interwar Paris, and did not disappoint this modest school-leaver from Kaunas who had nurtured francophile feelings. His contact with modern art and his friendly relationship with living modern classics residing in the capital of art, such as Maurice Utrillo, Pierre Bonnard, Pablo Picasso, Maurice de Vlaminck, Fernand Léger, Tsugouharu Foujita, and others, had a decisive influence on the work of the student of Jacob Mesenblium and Justinas Vienožinskis. Paris brought out and shaped Blatas' recognisable expressive and spontaneous artistic style. The community of fellow Litvaks and other Jewish artists from Central and Eastern Europe, united by their common origins and the shared Yiddish-language culture, played a significant role in the process. The majority of these artists gathered in the famous talent hotbeds of Montparnasse, La Ruche and Cité Falguière, where Jewish artists who were to form the core of the Paris school often stayed.
Blatas made his debut in Paris in 1929. Kaunas artists were also aware of the young artist who was maturing in Parisian soil and resolutely walking along the path of modernity. Blatas participated in exhibitions and propagated modern European traditions in independent Lithuania: thanks to his efforts, the first private art gallery opened in Kaunas in the autumn of 1932. He was good friends with the Kaunas artists Adomas Smetona, Adomas Galdikas and Max Band. His subtle colouristic talent was quickly noticed, and won him acclaim. Pierre Matisse, the son of the famous Fauvist painter, organised an exhibition of Blatas' work in New York in one of the Fuller Building's galleries. After an exhibition in the Galérie de l'Elysée, two museums, the Musée de Grenoble and the Jeu de Paume, were the first to acquire paintings by him for their collections. The artist's recognition in France was consolidated by success in London, and later in New York, where artists who had left Europe, such as Mark Rothko, Jacques Lipchitz, Marc Chagall, Ossipas Zadkine, Max Band and Fernand Léger, resided. At that time, New York attracted creative souls from around the world like a magnet, absorbing the influence of immigrants to produce what was to become American cosmopolitanism. The artist's frequent travels to Europe, to Paris and Venice, defined his later work.
Blatas embodied a moderate modernist's desire to be free, at the same time as not losing touch with reality. This is demonstrated by the creative direction he chose, and by the traditional genres he employed: portrait, landscapes and still-life. He mastered the styles of Impressionism and Post-Impressionism, both German and French, and continued the line of French colourism. Gifted with multiple talents, Blatas felt equally at home in (primarily) painting and sculpture, and later graphic art and stage design. He managed to identify means of expression that were close to his nature. He did not thrash about or try to keep to what he saw as being foreign to him: he trusted his eyes, his senses, his intuition and his subtle sense of colour, and that way he retained his artistic identity.
Ilona Mažeikienė