2010 04 23 - 08 15
Algirdas Šeškus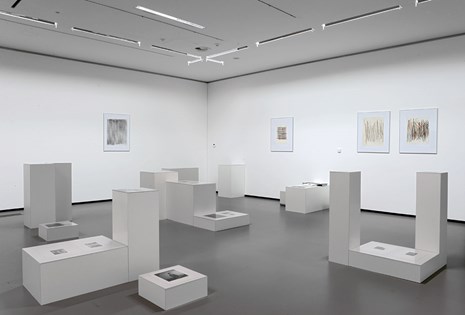 Fragment of the exhibition 'Algirdas Šeškus. Archives (Pohulianka). Photographs and Prints 1975–1983'
Algirdas Šeškus
Archives (Pohulianka). Photographs and Prints 1975-1983
The name of Algirdas Šeškus, an art photographer from Vilnius, is often mentioned by critics and historians of photography when marking a turning point in Lithuanian contemporary photography. His debut in 1980 took place at the Young Photographers' Exhibition in Vilnius organized by the Association of Photographic Art and the works revealed a new phenomenon at odds with the Soviet culture.
The photographer focused on the nature of the visible, on the interaction of intention and meaning with the fact (the act of photographing seen as an action), and the de-contextualization of the content. He cultivated photography without any specific trend or direction: without proper topics, objects of artistic research, and conceptual projects, choosing the aesthetics of "amateurism" instead. This strategy enabled Šeškus to balance between artistic nihilism and fetishism of the creative act, between the underground and the official art scene, between collectivism and individualism.The artist has always had a critical attitude towards traditional reflection of reality, modernist originality and innovativeness at large. The said position was expressed in indistinct, blurred, "void of any order, messy" compositions; toneless, soft, reduced images, and unexciting, nonessential content.
Following his strategy of assumed "dilettantism", Šeškus ignores the standard principles of photographic display - he does not title his photographs or indicate where and when they were taken.
Šeškus's works have influenced the rise of post-modernist tendencies in Lithuanian art photography. In the early 1980s the new photographic language was introduced by Alfonsas Budvytis, Vytautas Balčytis, Remigijus Pačėsa, Gintaras Zinkevičius and other photographers of the new wave, who preferred the position of passive observers of reality as an alternative to the prevailing romantic vision of the world.
The photographs of Šeškus reveal the (anti)aesthetics of (neo)avant-garde - their experimentalism and originality stretch the boundaries of the traditional Lithuanian photography. The photographs taken between 1975-1983 were developed at Pohulianka (J. Basanavičius street), where he lived and worked at that time, and produced the archive of photographs and prints; that when exhibited as a whole extends the territory of his creative engagement.
Exhibition curator Margarita Matulytė