2010 08 25 - 09 25
Boredom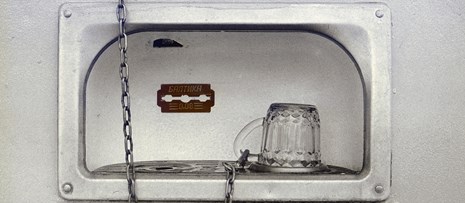 Remigijus Pačėsa. The blade is glued to the photo because the chain is fixed to the mug. 1992. Collage, silver print, 23,6x35
Photography exhibition 'Boredom'
The exhibition presents the aesthetics of boredom as a paradox, when aesthetic experience emerges out of the banality of everyday reality, from which art usually helps to escape. All of the strategies associated with the aesthetics of boredom - speaking about boredom, monotonous expression, depiction of banal objects and everyday spaces, randomness and slowed-down time - are identified and analysed in Lithuanian photography in the period between the 1980s and the beginning of the 21st century.
Everybody knows what boredom is. It comes when one has to wait for something or has no activity to engage in, when something recurs over and over again. If that was it, boredom - the grey companion of everyday life - would not have been a problem. But there is also this other boredom, the one that poets and philosophers associate with the emptiness of life. It poisons the soul with forehand indifference to everything; no experience, feeling or action appears meaningful in its presence. What is even worse, this existential boredom, according to Arthur Schopenhauer, "is a positive proof that, in itself, existence has no value". Thus, two different boredoms, which torment one differently, exist, and thinkers and artists of all times sometimes help to untangle the confusion they cause.
The relationship that the researchers of boredom have with their object comes in three types. Some have long noticed that boredom - the light one that emerges when a person has, for a short period of time, no work to do - is the precondition and source of creativity. Philosopher Walter Benjamin, for instance, wrote: "If sleep is the apogee of physical relaxation, boredom is the apogee of mental relaxation. Boredom is the dream bird that hatches the egg of experience." Others simply learn to love that which is inevitable (or claim to have done so). Andy Warhol, for one, has stated: "I like boring things." He demonstrated this attitude by depicting only the things that repeated themselves ad nauseam or remained static for a long period of time. John Cage proposed to overcome boredom by totally submitting to it: "If something is boring after two minutes, try it for four. If still boring, then eight. Then sixteen. Then thirty-two. Eventually one discovers that it is not boring at all." The third approach combines the two first ones and becomes what one may call "the aesthetics of boredom". The role of the artistic object is assumed by boring everyday reality in its most banal manifestations, emptiness, the suspension of time, and boredom itself. "Nothing is happening" in these works, their structure is accidental, and their message is meaninglessness, silence, or text lost in contradictions. The researchers of boredom, it seems, seek to implement Cage's idea that "the responsibility of the artist consists in perfecting his work so that it may become attractively disinteresting." What is the result of this behaviour? Definitely not boredom. Then what?
This exhibition of photographs, complemented by cognate "moving images", offers some of the possible answers to this question. Its key authors employed the aesthetics of boredom as a reaction to the monotony and absurdity of the Soviet era. However, as the system has changed, boredom has not disappeared - it still exists today, assuming ever new forms. The ongoing discourse of boredom invites to take a different look at what looks familiar and find the value of existence where one would not normally see it, to learn to love the imperfection of everyday reality. I hope that boredom is never going to be boring again.
Curators: Agnė Narušytė, Eglė Deltuvaitė
Artists: Vytautas Balčytis, Monika Bielskytė, Alfonsas Budvytis, Joana Deltuvaitė, Doooooris, Vidmantas Ilčiukas, Arūnas Kulikauskas, Algimantas Kunčius, Giedrius Liagas, Alvydas Lukys, Jonas Mekas, Aleksandras Ostašenkovas, Vytautas Stanionis, Andrius Surgailis, Algirdas Šeškus, Remigijus Treigys, Gintautas Trimakas, Remigijus Pačėsa, Rokas Pralgauskas, Raimundas Urbonas, Artūras Valiauga, Gintaras Zinkevičius.
Exhibition is the part of the 2nd international art photography festival 'In Focus' 2010 in Vilnius.