2010 10 15 - 12 19
A Million and One Days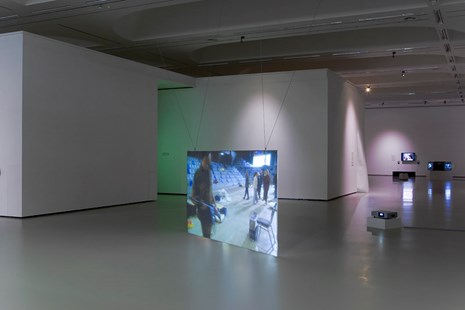 Fragment of international exhibition 'A Million and One Day'
A Million and One Days
An international exhibiton of film and video art
The exhibition A Million and One Days aims to reflect on the dissemination of moving images through the channels of cinema, television, the Internet, contemporary art etc., which has been happening for more than a century already and has significantly influenced the development of society and culture in 20th century, becoming one of the principal factors shaping the way of seeing the world today. The show's title was inspired by Terry Ramsaye's book about the early years of the film industry titled A Million and One Nights (1926), in which cinema is referred to as the most popular and attractive art form, while the history of cinema is equated with the history of the world. The exhibition also looks at moving images from the perspective of the construction of images of the world: which hopes and fantasies this medium allowed to embody, which form of its language was selected, and how it is related to the social, political, and cultural context. With the aim of presenting the diversity of conceived worldviews, popular movies are shown alongside avant-garde films and video works.
Using the metaphor of the Arabian tales collection A Thousand and One Nights, the exhibition emphasizes one aspect of the moving image - storytelling. Moving images are here viewed as a new means that strikingly expands the possibilities of the ages-old art of telling stories, rather than a completely new, independent phenomenon. The exhibition consists of three parts that reflect the different relationships between the real and the fictional reality produced by moving images: Dreams - A Never-ending Story, Puzzles - A Million Stories, and Doubts - A Story Within A Story.
Artists: Tamás St Auby, Artūras Barysas (Baras), Janett Cardiff & George Bures Miller, Omer Fast, Harun Farocki, Dominique Gonzalez Foerster, Adam Leech, Jonas Mekas, Aernout Mik, Deimantas Narkevičius, Sergei Parajanov, David Perlov, Sandra Schäfer & Elfe Brandenburger, Roman Signer, John Smith, Hiroshi Sugimoto, Bill Viola, excerpts from films by William Cameron, Jean-Luc Godard, Michael Moore, Richard Donner, Lithuanian feature films etc.
Curators: Giedrius Gulbinas, Eglė Mikalajūnė, Dovilė Tumpytė