2009 10 02 - 12 06
Cold War Modern: Design 1945–1970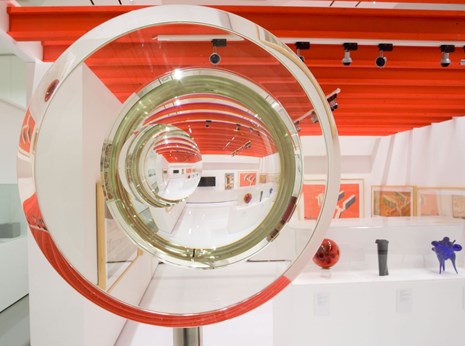 Fragment of the exhibition "Cold War Modern: Design 1945–1970"
The international exhibition
Cold War Modern: Design 1945-1970
The international exhibition "Cold War Modern: Design 1945-1970" for first time brings together art and design from the West and the East of the period marked with the dramatic conflict and competition between the two political blocks.
1945-1970 was the time of not only political tension but of exceptional creativity as well. It touched a wide range of human activities - from everyday life to the most remarkable achievements of culture. Arms and space race and the development of science and technology have made a huge impact on culture. Concentrating on the highly troublesome and volatile years the exhibition will reveal the Cold War as a competition between differing concepts of modern life and art in the world divided by the Iron Curtain.
The exhibition includes works of the outstanding artists from the West (Lucio Fontana, Robert Rauschenberg, Isamu Noguchi, Pablo Picasso, Gerhard Richter, Ossip Zadkine, and others) and the East (Jiří Kolář, Josef Koudelka, Boris Michailov, Yevgeniy Vuchetich, and others), modern design and craft objects (by Magdalena Abakanowicz, Pierre Cardin, Joe Colombo, Charles and Ray Eames, Dieter Rams, Eero Aarnio, Stanislav Libensky and Jaroslava Brychtová, Raymond Loewy, Paco Rabanne, Eero Saarinen, and others), architecture projects (by Archigram, Archizoom, Le Corbusier, Buckminster Fuller, Arata Isozaki, Peter and Alison Smithson, and others) and films (by Stanley Kubrick, Mikhail Kalatozov, Andrei Tarkovsky, and others). Triumphs of science and engineering, such as the model of the first artificial satellite "Sputnik", model of the "Vostok" spacecraft capsule, spacesuits of USA astronauts and USSR cosmonauts, models of Moscow and Ješted (former Czechoslovakia) TV towers and others, will also be presented to the viewers.
The exhibition is organized by the Victoria and Albert Museum.
Curators: Jane Pavitt and David Crowley.