2009 06 21 - 08 23
Dialogues of Colour and Sound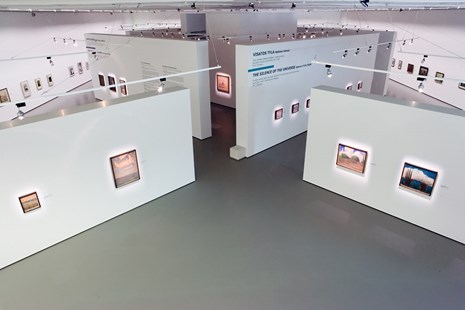 Fragment of exhibition 'Dialogues of Colour and Sound. Works by Mikalojus Konstantinas Čiurlionis and his Contemporaries'
Dialogues of Colour and Sound
Works by Mikalojus Konstantinas Čiurlionis and his Contemporaries
The exhibition 'Dialogues of Colour and Sound. Works by Mikalojus Konstantinas Čiurlionis and his Contemporaries' presents works by artists of the early 20th century, Europe's 'silver age', that embody the interaction of art and music. The aim is to reveal the ideas and spiritual links relating the Lithuanian artist Mikalojus Konstantinas Čiurlionis (1875-1911) with his contemporaries among European artists and composers.
The exhibition covers a period of unrestrained development in Modernist trends in Europe. From the 19th century, the variety of ideas in the synthesis of art and music in Europe developed and spread, not according to the principle of a powerful centre and its peripheries, but according to numerous sparkling centres of art. In the evolution of the exploration of the relationship between painting and music, not only Munich and Paris, but also Vienna, Prague, St Petersburg and Warsaw are important. Artists from different countries were united by one common idea in the kinship of arts, while the variety of its manifestations in painting and graphic art was immense. Today it could be called a meaningful creative dialogue of European artists.
The exhibition consists of five sections with subsections, the titles of which, and the accompanying quotations, reflect the outlook of M. K. Čiurlionis and his contemporaries.
1. The Sounds of Nature. In works by M. K. Čiurlionis and his contemporaries, the world of sounds is inseparable from the sensation of nature: it is the pounding of waves in the sea, the rustle of leaves, the swish of rain, and images of storms and of night.
2. The Silence of the Universe. M. K. Čiurlionis and other European artists directedtheir eyes and their thoughts to the grandeur of the Universe, which was hardly known then. Silence, just like nature and outer space, was glorified and mystified.
3. The Hum of Cities. M. K. Čiurlionis and his contemporaries took an interest in the phenomenon of the city. Cities are often depicted as a source of evil, of passions and dangers, yet they provided artists with the inspiration for free and sometimes utopian flight of fancy.
4. Enchanted by Music. Artists of the early 20th century revelled in motifs merging music and art: from playing figures and musical notes to entirely new images based on the synthesis of music and painting, leading to the emergence of abstraction in art.
5. Soundscapes. This section is dedicated to music. It presents recordings of works by M. K. Čiurlionis and his contemporaries, along with his rarely exhibited music manuscripts.
Projections show the parallels between the composers' creative work, historical and biographical timelines, and photographs and maps.
Exhibition Curators: Rasa Andriušytė-Žukienė, Osvaldas Daugelis, Vojtech Lahoda, Šarūnas Nakas
Exhibition Designer Saulius Valius