Paul Mason's book launch
Can capitalism survive forever, adapting to new technologies, new behaviors, new political structures? Are there limits to capitalist expansion? Paul Mason argues that the rapid development of infotechnologies creates new forms of work, value and ownership that cannot be contained within a capitalist economy. Humanity finally has a chance to form societies based on abundance, freedom and cooperation.
The book will be introduced by Paul Mason, international start, himself in coversation with trranslator dr. Egidijus Mardosas and moderator dr. Andrius Bielskis.
The event is free and will be held in English.
The book could be purchased during the event.
NGA Auditorium
2019 11 08

6 pm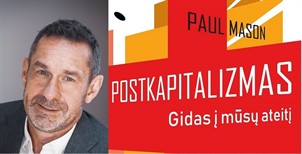 DEMOS Institute of Critical Thought invites to Paul Mason's "Postcapitalism" Lithuanian edition book launch!