Bad Weather at the Museum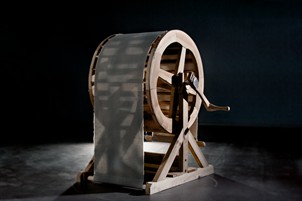 The sequence of events is set out as a palindrome and thus allows experiencing the same content in both directions: either starting with the "Navigations" in the Main Hall, then ascending the staircase with the "Barometer" and arriving at the presentation of the vinyl record, or vice versa - starting with LP launch and then descending with the "Barometer" into the Main Hall navigated by Arturas Bumšteinas.
6.00 pm: performance "Navigations" at the Main Hall
6.30 pm: performance "Barometer" on the staircase
6.50 pm: presentation of the "Bad Weather Long Play" vinyl record at the café
7.20 pm: performance "Barometer" on the staircase
7.40 pm: performance "Navigations" at the Main Hall
"Navigations"
Performance by Arturas Bumšteinas
Mariners oftentimes worked as stage hands in Baroque theatre. They coordinated stage machinery like they used to steer sailing ships. In the gallery version of "Bad Weather", Baroque theatre machines that simulate the sounds of rain, wind and thunder move within the large and empty space along the routes of tropical cyclones and leave traces of plant seeds that float on the surface of the ocean. Ancient weather conditions, viewed from constantly shifting perspectives, become transformed into multiple experiences - a ritual to revel in.
With the participation of: Gailė Griciūtė, Greta Grinevičiūtė, Alanas Gurinas, Aaron Kahn, Gitis Bertulis
Instrument maker: Ernestas Volodzka
Sound engineer: Jurgis Tamošiūnas
Lighting designer: Julius Kuršis
In cooperation with Kala Sound System
"Barometer"
Performance by Ivan Cheng

"Barometer" is a new, spatial tone poem that deals with language as pressure system, departing from the tirade of subjectivity and fallacies that marked the original libretto text forBad Weather. Created for the stairwell of the National Art Gallery, it is interested in questioning visibility and fluidity in traces, remains, and absence.
With the participation of Ivan Cheng
"Bad Weather Long Play"
Launch of the vinyl record
Produced from a selection of recordings made at rehearsals, workshops and performances with an alternating team of seven performers, Bumšteinas convokes a work that sounds its process on the mobile blueprint of meteorological maps as scores. Creating a mis-en-scène of invisible occurrences that talk with each other in the language of a storm that is brewing, raising and petering out, and that leaves a trace in our ears, an imprint and a movement that might only clear the next day (Salomé Voegelin).
Arturas Bumšteinas (1982) is an artist working with music and sound. He is interested in sonic anthropology, Higginsian intermedia practice and works on crossroads of music, exhibition art, performance art, theater and radio. Bumšteinas' work was presented by various festivals and institutions, such as Holland Festival, Unsound Festival, Ultraschall, Cricoteka, Operomanija, Deutschlandradio Kultur, CAC Vilnius, Vartai Gallery, Berghain Kantine, and many others. In 2014 Arturas was awardedPalma Ars Acusticaprize for his radio art, in 2019 -Borisas Dauguvietis earringfor the integration of audible experiments into new theatre forms. In 2017 Bumšteinas was an artist in residency at the Berliner Künstlerprogramm des DAAD. In 2019 Arturas appointed as the artistic director of Jauna Muzika festival which takes place every April in Vilnius.
www.refusenik.org
Ivan Cheng (1991, Sydney)
www.ivancheng.com
Tickets distributed by TIKETA. Please note: tickets are only sold for the performances of "Navigations" at the Main Hall; other parts of the event are free of charge.
Organized by Operomanija in association with the National Gallery of Art
Partners: Kala Sound System, Kirtimai Culture Centre
Supported by the Lithuanian Council for Culture
NGA
2019 09 19

6 pm
This programme of events feels like a gust of ancient wind and rain, rushing through the halls of the National Gallery of Art, pulling viewers into two performances specially conceived for the occasion and beckoning to stay for a while in the eye of the storm and listen to the sounds of theatrically reconstructed weather conditions which have just appeared on vinyl.