Panel discussion Crossing that Bridge: Art Criticism in the Baltic and Nordic Terrains
Participants: Kaarin Kivirähk and Keiu Krikmann (A Shade Colder, Estonia), Šelda Puķīte and Santa Hirša (WunderKombināts. Latvian Art Yearbook, Latvia), Mariann Enge (Kunstkritikk, Norway/Nordic countries), and Monika Krikštopaitytė (7 meno dienos / 7 Days of Art, and Association of Cultural Periodical Publications, Lithuania). The panel will be moderated by Vaida Stepanovaitė (Artnews.lt) and Vitalija Jasaitė (Echo Gone Wrong).
The panel will start with introductions to two brand new magazines on visual arts and culture in the Baltics: A Shade Colder covering Estonian lands, and WunderKombināts. Latvian Art Yearbook. On the occasion of these magazines of national focus hitting the shelves, the discussion will raise questions on the local, national, and regional relevance of visual art criticism in the present (geo)political and cultural milieus.
How is the role of art criticism and cultural reflection understood in the Baltic and Nordic regions? How is this role picked up by the cultural periodicals throughout the politically, socially, and economically tumultuous times?
How much do art critics and writers shape the national cultural body in their respective countries and within the international terrain? What is expected by the institutional and individual participants of the art field and the broader readership from the publishers reflecting upon nationwide landscapes?
This wide-reaching discussion will nevertheless be imbued with a rich variety of outlooks and points of pressure from arts and culture magazines of different profiles - long-running and just starting, institutionally-backed and self-initiated, published yearly and daily - albeit connected at the joints of regional (art) history and present-day conditions.
Event is open and free of charge.
The panel is organised by the Arts And Culture Magazines Publishers Forum, a new network facilitated by Artnews.lt connecting magazines on contemporary visual arts in the Baltic and Nordic regions. It is hosted in partnership with the Art Criticism Awards and their co-founders the Contemporary Art Centre, the National Gallery of Art and Artnews.lt. The panel is funded by the Nordic Culture Point and the Lithuanian Council for Culture.
NGA Auditorium
2024 04 27

18:30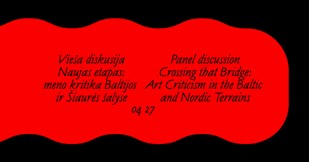 27 April, 18:30 a public panel discussion with editors of magazines on visual arts and culture covering the Baltic and Nordic region will take place at the National Gallery of Art.