Dialogues about Art
Participants don't need any prior knowledge about art, just a wish to look, see and discuss about it. We'll discuss two artworks in each session, one in English, one in Lithuanian. Participants can take part in one of the discussions or in both. We aim for a group of adults who feel comfortable voicing their different points of view about the art in a slow-paced meditative dialogue setting.

Participation is free of charge, you just neet to purchase gallery's ticket.

Form of registration.
NGA
2022 11 05

4 pm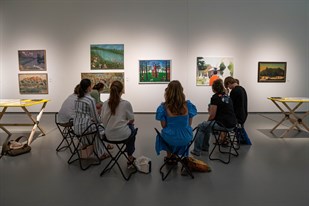 Every first Saturday of the month you are welcome to join "Dialogues about art" at the National gallery of art with Karen Vanhercke (in English) and Eglė Nedzinskaitė (in Lithuanian).