2023 11 09 - 2024 02 04
Vilnius, Wilno, Vilne 1918 - 1948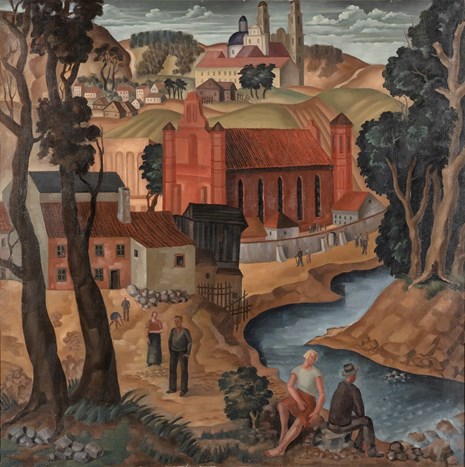 Vilnius, Wilno, Vilne 1918 - 1948
One City - Many Stories
The exhibition shows Vilnius in an exceptionally complicated historical period. We become acquainted with the city thanks to paintings, graphics, photographs and other works of contemporary artists.
In the years 1918-1948 Vilnius passed from hand to hand - it became part of Poland and Lithuania and was occupied by both the Nazis and the Soviet army. Occupations and wars radically changed the social structure and population of the city, and also influenced its architecture and urban planning. The seven-part narrative of the exhibition shows how the artists of the then multi-ethnic and multi-cultural Vilnius perceived their city. Apart from representatives of Polish culture, an important role in creating this image was also played by Lithuanian, Jewish and Belarusian artists.
The exhibition presents more than 250 works of Vilnius artists stored in Polish and Lithuanian cultural heritage institutions. In addition to the well-known and repeatedly presented works by the classics of Vilnius art, e.g. Jan Bułhak, Ludomir Slendzinski, Michał Rouba, Jerzy Hoppen, Adomas Varnas, Vytautas Kairiūkštis and Bencionas Cukermanas you can also see paintings, graphics and photographs of the younger generation of artists, which included e.g. Hanna Milewska, Józef Horyd, Hadassa Gurewicz-Grodzka, Sofija Urbonavičiūtė-Subačiuvienė, Vladas Drėma, and Moshé Vorobeichic (Moï Ver). Some of them are being shown for the first time.
Exhibition curators: Giedrė Jankevičiūtė, Andrzej Szczerski

Honorary Patronage:
Minister of Culture of the Republic of Lithuania Simonas Kairys
Minister of Culture and National Heritage of the Republic of Poland Piotr Gliński
Organizers: National Gallery of Art, Lithuanian National Museum of Art, Muzeum Narodowe w Krakowie
Coordinators of the project: Ieva Mazūraitė-Novickienė, Katarzyna Pawlowska

Architect of the exhibition: Mindaugas Reklaitis
Graphic design: KLIMAITE KLIMAITE, Laura Grigaliūnaitė
Artworks and photographic material was kindly loaned to the exhibition by:
Lithuanian National Museum of Art, M. K. Čiurlionis National Museum of Art, Wroblewski Library of the Lithuanian Academy of Sciences, Lithuanian Archives of Literature and Art, National Museum of Lithuania, Lithuanian Art Centre TARTLE, Lithuanian State Historical Archives, The Library of Vilnius Academy of Arts, The Museum of Vilnius Academy of Arts, The Vilna Gaon Museum of Jewish History, Vilnius Museum, Vilnius University Library, Vilnius University Museum, Cultural Heritage Centre in Vilnius, Judaica Collection of the Martynas Mažvydas National Library of Lithuania, Šiauliai 'Aušra' Museum, Parish of the Church of the Ascension of Christ in Utena, Church Heritage Museum of Archdiocese of Vilnius, Vilnius City Municipality, Nicolaus Copernicus University Library in Torun, National Library in Warsaw, University Library in Warsaw, National Museum in Warsaw, National Museum in Krakow, District Museum in Torun, Leon Wyczołkowski District Museum in Bydgoszcz, Museum Warmia and Mazury in Olsztyn, Silesian Museum in Katowice, Ossoliński National Foundation in Wrocław - Museum of the Princes' Lubomirski, National Digital Archive
General Sponsor: ORLEN Lietuva
Project financed by: Lithuanian Culture Council, Research Council of Lithuania
Partners: Muzeum Narodowe w Warszawie, Vilnius Museum, Polish Institute Vilnius, Lithuanian Culture Research Institute
Information partners: LRT plius, JCDecaux, Vilnius 700
Sponsors: BTA, Fundermax
Special thanks to Tadas Gečauskas and Narimantas Savickas (Lithuanian Riflemen's Union)
The exhibition 'Vilnius, Wilno, Vilne 1918-1948. One City - Many Stories' first was shown in National Museum in Krakow, May 23 - September 3, 2023.