Performance Art Workshop with Yaryna Shumska I AM HERE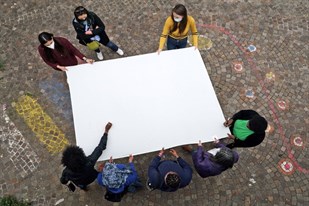 This series of workshops is an attempt to create a meeting point for young people, reveal their creative potential, to provide them with support for expressing their own thoughts, ideas, and anxieties that are relevant to them here and now.

The workshops will be led by Ukrainian artist Yaryna Shumska (yarynashumska.com) in collaboration with the National Gallery of Art (NGA) in Vilnius.

The workshops will take place at the National Gallery of Art, Konstitucijos pr. 22, Vilnius 08105, Lithuania
The workshops are free of charge.

Workshops will be held in English with comments (if needed) in Ukrainian and Lithuanian.

More information: edukacija@ndg.lt

The workshops are part of the project "From Complicated Pasts Towards Shared futures".
2023 01 27

4:00 - 6:00 pm
We invite teenagers (16-18 years old), local to Vilnius and those who have moved or migrated here from other cities and countries to participate in a series of performance art workshops I AM HERE.