Identities of the place
The workshop focuses on understanding the power relations in making the moving image, particularly the so-called documentaries. In our case, we will concentrate on the questions concerning the locality and the changing identities of the place and land. Also, we will examine how to approach whoever is living and dying in it. How do we work with the locality of the place and space? What does it mean to connect it with the histories that were silenced? How do we encounter the living?
Jaana Kokko is a Helsinki-based visual artist with a background in arts and economics. She works primarily with video, but also in photography, text, and drawing. Her works revolve around the subjects of language, representation, and alienation and are seen through the eye of a feminist. In her practice Kokko often explores 'polylogs', using dialogue she shows how our world consists of different individuals and their interpretations of reality in their historical context. She has been lecturing and teaching regularly at the universities, recently at the Academy of Fine Arts, Helsinki, and Academy of Fine Arts, Nürnberg. Jaana Kokko's work is currently on display in the exhibition "Difficult Pasts. Connected Worlds" (29. 04. - 28. 08. 2022, National Gallery of Art, Vilnius).
The workshop is a part of the project "From Complicated Past Towards Shared Future". It is financed by the FRAME Contemporary Art Finland, Lithuanian Council for Culture and European Union Programme "Creative Europe".

The workshop will be held in English.
The event is free of charge. Registration by e-mail: edukacija@ndg.lt

Image: Jaana Kokko. A still from the film "Roma Mountain (Porridge Hill)", 38 min, stereo, 2022.
NGA
2022 08 18

4:00 - 8:00 pm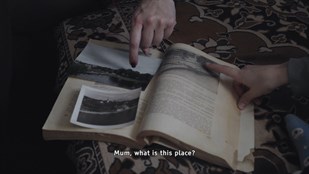 Identities of the place. Workshop for youth and adults led by artist Jaana Kokko (Finland)