Magnetic Tape Underground GDR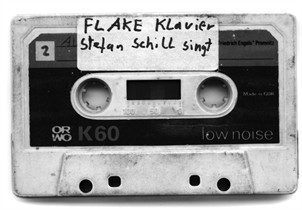 The exhibition "The Sweet Sweat of the Future" is accompanied by the lecture of Alexander Pehlemann on the underground music scene of devided Berlin in 80s.
Tapes, noise and art in subculture before the fall of the wall
Inspired by Punk and Post Punk, vibrant scenes dedicated to independent self-actualisation by means of sound circulated on self-distributed cassettes were developing on each side of the Cold War's confrontational line. While there was a DIY euphoria in the West, subcultures in the East simply had no other means at their disposal and even the first act of replication meant moving into illegal territory already.
As early as by the late 1970s, artists were working with language experiments, multimedia or performance art. The Punk infusion meant a radicalisation of all these, creating an urge to process the latest currents under the GDR's restricted conditions. The protagonists were openly und unbiased crossing genres and jumping back and forth between various stiles, having already taken their internal leave from state and society as they had done externally anyway. Driven by ubiquitous boredom, equipped with plenty of time and free of economic restraints (or rather possibilities), labour was performed with no regard to the final product and almost never published. With the partial opening accompanying the beginning agony of the State, conditions changed. After the fall of the wall many took different roads, some leading to Rammstein, others to Raster-Noton or groups like To Rococo Rot and Tarwater.
Alexander Pehlemann from Leipzig, publisher of Zonic magazine and Zonic Spezial book editions on subcultures behind the Iron Curtain, will be introducing the topic with sound, movies and pictures.
The lecture is free of charge, without prior registration. The lecture will be delivered in English.
The event is supported by Goethe Institut.
Iliustration: Tape by Flake (today keyboards of Rammstein, back then member of Feeling B and a lot of different projects).
NGA Auditorium
2019 08 23

18:00
Magnetic Tape Underground GDR