Lecture 'The Forgotten Modernist from Vilnius'
At the height of 20th Century modernism and one of the followers of the New Vision concept, Moï Ver (1904-1995), alias Moshe Vorobeichik alias Moshe Raviv, became one of the central figures in European photography. Born in Vilnius, he wandered through Europe until he immigrated to Palestine in 1934. He remained hidden from the international art scene for a long time.

Breaking with the tradition of romantic Pictorialism he perceived as decadent, he reverted to an almost anti-photographic style that relied on avant-garde vision and practice. His photographic approach was a combination of painting and camera practice that yielded radical images.

Decades ahead of his time, the collages, multiple exposures, and the combination prints he produced were a vibrant depiction of the dynamism of the modern life and metropolis and many decades later still remain relevant and modern as an advanced form of photographic expression.

The entrance to the event is free, without registration. The lecture will be delivered in English.
Illustration: Moshe Raviv-Vorobeichic. View from the Pont Transbordeur. Marseille. 1929. Moshe Raviv-Vorobeichic family archive (Israel)

NGA Auditorium
2019 12 14

16:30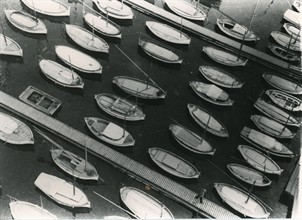 On 14 December at 4:30 pm at the Auditorium of NGA dr. Nissan N. Perez, the director of Moshé Raviv-Vorobeichic archive and curator of the exhibition ʻMoï Ver: Moshé Raviv-Vorobeichic. Montages of Modernity' will give the public lecture ʻThe Forgotten Modernist from Vilnius'.