The Revolutionary Imaginary:
 Visual Culture in an Age of Political Turbulences
Interdisciplinary conference, Vilnius (Lithuania),
November 30 - December 1, 2017
The conference is organized jointly by the Laboratory of Studies of Visual Culture and Contemporary Art at the European Humanities University (Lithuania), National Art Gallery (Lithuania), Visual Culture in Europe Network and Goethe Institut in Lithuania.
Taking as a starting point, the idea of art as a "medium of social conflicts" (Horst Bredekamp), the conference poses the question of how the visual imagery mediate the social imaginary in various modalities of revolutionary praxis, and how the abstract concepts of revolution, resistance and revolt have been made visible and intelligible through different forms of visual culture - from photography and cinema to comics and political posters. A series of interrelated questions evolve around this theme, namely: how has the very idea of a "Revolution" changed with the course of time? What role do current or recent events, new theories and practices play in this re-vision? How are the concepts of "Representation" and "Revolution" related to each other? How has the idea of the Revolution been re-actualized, re-enacted and reformulated in recent political performances, media representations and artistic practices? And last but not least: what role do visual images play in the revolutionary praxis - as "multipliers of meanings, power and emotions" (W.J.T.Mitchell)?
CONFERENCE PROGRAM
November 30, Thursday
10.00 - 10.15 Welcome and introductory remarks
10.15 - 11.45 Panel 1: The Clash of Images
Chair: Krešimir Purgar
Łukasz Zaremba. Revolutionary iconoclasms. Lessons from America for Eastern Europe?
Vladimir Janchevski. Pissed off!: critical art and protest culture beyond 'toilet revolutions'.
Øyvind Vågnes. Victoria Lomasko's iconoclastic gestures: reflections on other Russias.
11.45 - 12.00 Сoffee break
12.00 - 13.30 Panel 2: Contested Spaces, Conflictual Memories and Postsocialist Condition
Chair: Øyvind Vågnes
Magda Szcześniak. Protesting images. Countervisuality of the Solidarity movement.
Kasparas Pocius.Erasure: the Green Bridge sculptures and the visibility of working class
Almira Ousmanova. Divided solidarity - recoded spaces - disposable art.
14.30 - 16.00 Panel 3: Protest Cultures and the Ghost of Revolution
Chair: Davide Lombardo
Petr Agha. Un-doing law - public art as contest over meanings.
Rasa Kasperienė, Justina Mandravickaitė. Political protest groups and their rhetoric on Facebook.
Dario Martinelli. Protest songs and political orientation: "left" and "right" in popular music.
16.00 - 16.30 Coffee break
16.30 - 18.00 Panel 4: The Visual Production of Political Resistance
Chair: Lolita Jablonskienė
Davide Lombardo.The farce and the workers' bloodshed: the eclipse of/post June 1848.
Antigoni Memou.'La Beauté Est Dans La Rue': protest and Radical Visual Narratives.
Safet Ahmeti. What has revolution ever done for us?
December 1, Friday:
10.00 - 11.15 Panel 5: Affect and Politics
Chair: Audronė Žukauskaitė
Victoria Musvik. Selective amnesia or revolutionary energy? Traumatic silence and affective revival of Perestroika and early nineties in Russian museum spaces.
Denis Petrina.Revolution (S)ex Machina: pornography, enslaved cairos, biomediated affective regimes.
11.15 - 11.30 Coffee break
11.30 - 13.15 Panel 6: Imprinting Utopia: Revolution and its Form(s)
Chair: Natalija Arlauskaitė
Andrei Gornykh.Revolution and form: left avant-gardism with political utopianism.
Olga Boitsova and Ekaterina Orekh. Burzhuys and Bolsheviks in caricatures and children's drawings of 1917-1918.
Alla Pigalskaya. The modes of construction of avant-garde heritage in Soviet Belarus and the Post-Soviet Period.
Nadezhda Zinovyeva. The principles of the impact of the poster propaganda of the Civil War in Russia (1917-1922).
14.15 - 15.45 Panel 7: The Images of the Multitude
Chair: Magda Szcześniak
Marija Krilova Weste.Representation of movement in the feature films of the Soviet Latvia of the 1960s: walking the streets of Riga.
Isabel David.Towards Socialism: the role of visual culture in post-revolution Portugal.
Gleb Koran.Meaning of "image" for populist internet-movements: "multitude" as an engine for "post-truth".
15.45 - 16.15 Coffee break
16.15 - 17.45 Panel 8: The Digital Turn: Invisible Revolution?
Chair: Almira Ousmanova
Per Ståhlberg. Media technologies as tropes of revolution.
Michael Forsman. 1984 according to Apple: the corporate synchronization of digital competence and critical media literacy.
Dzmitry Boichanka.The AI turn: the algorithmic future of the spectacle.
18.00 - 19.00 Alexander Kluge - Keynote lecture (via Skype)
"Yearning for the childhood of thoughts". Marx and Eisenstein in the same house: scenes from NEWS FROM IDEOLOGICAL ANTIQUITY.
19.00 - 20.30 Screening:News from Ideological Antiquity: Marx/Eisenstein/Capital(directed by Alexander Kluge, 2008, in German with English subtitles, short version (85'). Organized with the support of Goethe-Institut in Lithuania.
NGA Auditorium
2017 11 30

10:00 - 18:00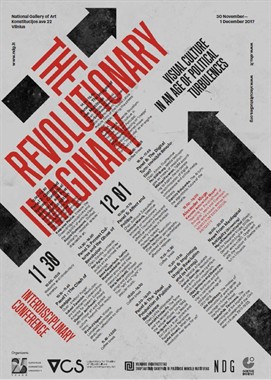 On 30 November and 1 December a conference titled 'The Revolutionary Imaginary:
 Visual Culture in an Age of Political Turbulences' will take place in the NGA auditorium.