Lars Movin lecture and film screening on Fluxus
An unconventional documentary about the Fluxus movement, an international group of artists who since the early 1960s have challenged and disrupted our ideas of what art can be. The film was shot largely in Venice, Italy, in the summer of 1990, when many of the original Fluxus artists met for a major exhibition in connection with the Biennale, almost thirty years after the first iconoclastic Fluxus concerts were held in New York and various European cities. Employing layered manipulations of video technology, the film includes interviews with leading Fluxus artists, documentation of their works, and historic archival footage from thirty years of groundbreaking Fluxus performances, films, and video tapes.
Appearing, either in original interviews or archival footage, are seen: Eric Andersen, Joseph Beuys, John Cage, Philip Corner, Henry Flynt, Ken Friedman, Jon Hendricks, Dick Higgins, Alison Knowles, Jackson Mac Low, George Maciunas, Jonas Mekas, Charlotte Moorman, Yoko Ono, Nam June Paik, Ben Patterson, Willem de Ridder, Ben Vautier, Emmett Williams, La Monte Young, a.o.
The film has received a number of prizes and is included in many collections of art and educational institutions around the world.
Lars Movin lives and works in Copenhagen. He is a writer, filmmaker, and freelance curator at the Cinematheque in Copenhagen. Movin published more than thirty books and directed a number of documentary films. Specialized in subjects such as avant-garde art, video art, experimental film, documentary film, the American Beat Generation of the 1950s, and the New York downtown scene. His two latest books, both published in 2021, are about the artistic/literary strategies of William S. Burroughs and about the experimental films of Fluxus/Yoko Ono/Bob Dylan. Among his other films, can be mentioned "Words of Advice - William S. Burroughs on the Road" (co-directed with Steen Møller Rasmussen) (2007).
The event will be held in English.
The talk will be broadcasted live on Youtube (the link will be provided on the day of the event). "The Misfits - 30 Years of Fluxus" can only be seen at the NGA.
To participate in the event, register here: https://forms.gle/CFBdx1WKiUYd94yg7
The COVID certificate will be scanned upon arrival; a protective mask must be worn throughout the event.
NGA Auditorium
2021 11 26

5 pm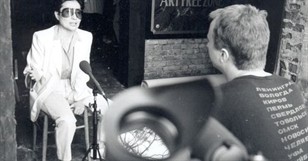 Writer, filmmaker, and curator Lars Movin is coming to Lithuania. He will give a lecture on the Fluxus movement at the National Gallery of Art and present his film "The Misfits - 30 Years of Fluxus" (Denmark, 1993, 79 min.)